A nice fake pictures for animales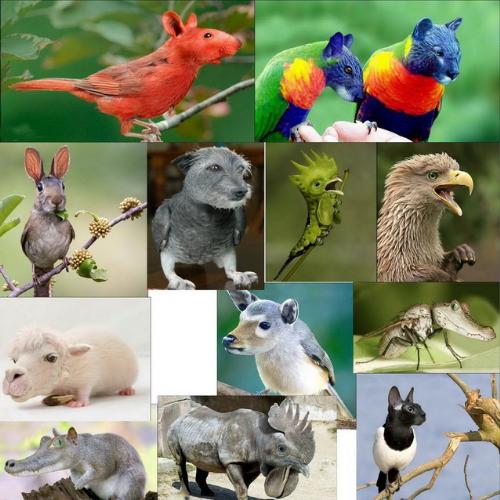 Iraq
August 11, 2008 5:59pm CST
Hi my friends, I have seen these good work fakes pictures on some site, and I gather them in one image and share it here for you to see the interesting work that they had on it, it seem such a real pictures. Do have ever make some fake work on some pictures and what do you think about this faking work?Have a nice day for all.

5 responses

• United States
15 Aug 08
Those pictures are very interesting my friend,and I think you are a genius for sharing them here with us,and your pictures are always awesome to look at,and they always make me think,and I think it is kind of neat that people would make fake pictures even though at the same time it is wrong especially if they are trying to deceive people.

• Iraq
15 Aug 08
Every kind of work in world have 2 parts, bad and good, as I say above, the person who will make the work bad or good. Thank you for your response and have a nice day.



• United States
15 Aug 08
I agree every work does have bad and good and it all depends on the person doing it, you are always welcome for the response,keep up the good work my friend,have a great day,good luck in your life,and Happy Posting.


• Iraq
15 Aug 08
Yes people can do a lot of things in the images, and do a lot of changes in it. Thank you for your response and have a nice day.



•
12 Aug 08
Hi aulkurishy, Very nice fake pictures, no I haven't any fake pitures before, very clever of themm nice colours. Tamara

• Iraq
12 Aug 08
I know that you love the colors, and I was wonder if you like this photos or not, but I think you like it, my dear friend. Thank you for your response and have a nice day.



• Philippines
11 Aug 08
Wow.. these pictures are really creative my friend. Do you have the name of the website so I can check it out as well? Haha... They actually look real. If you didn't know how these animals really looked you'd think that those pictures were real. Lol. Great.


• Iraq
11 Aug 08
Yes my dear friend, at the first sight when you see the pictures you feel it is real, the site I have got them from it is an Arabic site and the language is in Arabic too, and I think you will not understand what are written there.

Thanks for your response and have a great day.



• Singapore
15 Aug 08
The pictures are really amazing! They looked so real that for a moment or so, I thought that they were new breeds of animals. It's amazing what one could do with the computer nowadays! Do you happen to have the website where you got these pictures from? I want to take a look!!

I had never created any fake work before. Hehe, even if I want to do so, I do not have the skils or knowledge to do that! I wish to learn and become as good as the artist who had done this pictures!

I think that those people who do these kind of faking work are really talented people who are very smart with their brains and hands! Personally, I really admired their talent!

If they are not doing any harm with their work, it is absolutely fine. Everyone has their own free will to do the things that they want to do. However, it is not okay if they are doing faking work just to deceive the world or for other malicious actions. (FOr example, doctoring a photo to frame someone or something). How about you? What do you think about faking work?

• Iraq
15 Aug 08
Well, I agree with you about that, someone who have the skills to do these fake pictures should nit use these skills in doing bad thing and hurt someone, as any kind of work in the world there are the good and the bad, this refer to the person who use these skills. Thanks for your response and have a good day.