Spirit dolls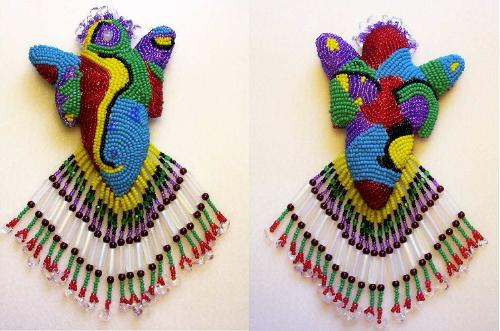 Lubbock, Texas
August 13, 2008 5:34pm CST
I recently completed this spirit doll. She has fairy wings and is completely covered with bead embroidery. Spirit dolls have different meanings for different people and their meanings also vary from culture to culture. I like to hold a beaded doll and just let my fingers play over the texture. It's sort of like a worry stone. It sooths me. Sometimes I actually feel the energy flow in my body break loose at a sore spot or in an area that I've been having trouble with. Has any one here had any experience with spirit dolls or have a different type of spirit doll you use/make?
6 responses

• United States
14 Aug 08
I would have thought they were beaded earrings if you hadn't told me they were worry dolls. They're so pretty and colorful. REmind me of colorful tropical birds. How did you learn to make them? They look difficult to make. Take care

• United States
14 Aug 08
I mean Spirit Dolls, I was still thinking about the worrying. It is interesting that they help you with your health. Take care

• Lubbock, Texas
14 Aug 08

Some people do call them worry dolls, and unload all their private thoughts and worries on them. Kind of like visualizing your head as a pitcher and pouring out your worries.


• United States
13 Aug 08
I've never heard of spirit dolls, but the one that you've made is absolutely beautiful. It's obvious how much work went into it when you see the intricate beading. I shall now have to look into spirit dolls -- the way you describe them is much like how my grandmother used her prayer strands.

• Lubbock, Texas
14 Aug 08
Thanks fluff. Yes I think in many cultures they are used much as prayer strands. There's something about texture that is mesmerizing and can help you focus.

• Australia
13 Aug 08
Oh they are beautiful, I can see there is a lot of work there, and I would think good eye sight and artistic talent, In could imagine them selling very well at a craft market or other places, very nice indeed..

• Lubbock, Texas
14 Aug 08
There
is
a lot of work to these, and I can see them selling at craft markets in some parts of the country, but not here. People who frequent craft shows here seem to be there to find ideas, not buy products. If they do buy they expect to pay third world country prices.



• United States
25 Aug 08
These are really pretty. I myself have tried doing things with these small beads before, but since I now have Carpal tunnel, it is hard to even pick these up anymore. But your work is very nice.