a son or a daughter?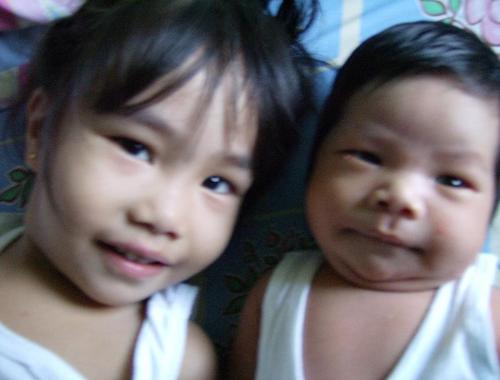 United States
10 responses

• Philippines
14 Aug 08
i would love a son for a first born. But really, either will be great, as long as the baby's healthy. oh if i have a choice, i would want twins too, a boy & a girl.

• Singapore
14 Aug 08
My exact thoughts. If given a choice I want a pair of twins - boy and girl.

Get it over and done with. Get pregnant just once. But I guess, life may not turn out the way to want it to be. I have a girl I love so much.

Actually I have no preference for my first born. But I would like to have a boy if I go on to get pregnant again. Don't know if I want to, though.


• United States
15 Aug 08
Being the eldest and a daughter in a family of 5 kids, I always wished for an older brother growing up. So I hoped to have a son first. Well, I got my son (but no others) and am thrilled to have him! But I would have been just as thrilled with a daughter.

• United States
17 Aug 08
i hope you can have a daughter too, you will surely enjoy having one. i can tell because i have my 3 yr old daughter. my mom & sisters likes to dress her up alot and buy her girly things.

• United States
18 Aug 08
Thank you - I wish it were possible, but I am not able to have any more children, so doubt a daughter is in my future. Would be so nice if I could afford to adopt.. ah well!!! Would love to have both, just to see the differences in their growing up! Enjoy yours for me! :-)

• India
14 Aug 08
first son and then a girl followed minimum 7yrs later,becoz the brother takes care of the girl.if both of them are small then parents have to care more.if girls are there they fight often.brother and sister relationship is the most loving relationship.they have the true affection between each other.brother always takes the place of a father.


• United States
17 Aug 08
My first born is a boy. It didn't really matter what my first born was, just as long as it was a healthy baby. After my son was born, I was hoping my second child would be a girl, and she is a girl, I went on to have another boy, my husband wanted a Jr. and I recently had another girl. I really wanted my last baby to be a girl. I grew up without a sister and I wanted my daughter to have one. So my kids are 11, 9, 6, and 5 months. I love my babies!

• United States
18 Aug 08
sisters are good to have. i have 3, one older, 2 younger. but you have boys & girl. you're lucky enough. i have a daughter & a son two, who ever comes first doesnt really matter, i love them both. thank you for sharing

• Malaysia
17 Aug 08
I am in week 38 now. I am having a baby boy according to the doctor. When the doctor first told us we have a baby boy, I was actually planning to have a daughter. Sounds silly not? My baby boy is not even born yet, I want to make another baby girl. Anyway, I think I wont be having the second one so soon. For the first one, we really do not mind whether it is a baby boy or girl, as to us, we have none yet. We welcome our own baby!

• United States
18 Aug 08
that is the right way to look at it, as long as the baby is healthy, theres nothing more we can ask for. good luck to your delivery. and when ur ready, i hope you have the baby girl you want.

• United States
15 Aug 08
I have 3 girls and a son. My son is the youngest. I never really cared if I had a boy or a girl and then by the third girl I just knew that I was only going to have girls and didn't even think about a boy. When the doctor delivered my son and said here is your boy I was shocked. My first thought was - I don't know what to do with a boy I only have girls. Now 3 yrs later I don't know what I would do without him. He is so different from my girls and I am so lucky to have him.

• United States
15 Aug 08
you are lucky to have a son. most people will be afraid to conceive after 3 girls thinking that the 4th one may be another girl. thank you for your response.

• United States
14 Aug 08
I have a two year old son and am very very happy about it. However, when we have a second one I would really like a girl. I think a boy and a girl would be the perfect finish to our family. Kinda silly, but I would love to have pink things and watch a little girl grow. It seems like the perfect rounded family.

• United States
15 Aug 08
a boy & a girl is perfect. i have both so i can tell. i hope you have a girl the next time. thank you for your response.

•
14 Aug 08
I only have the one, my son, but if I had had another I would have liked a girl. I think it is nice that way round as the big brother can keep an eye out for little sister and also little sister and her friends all have big brother and his friends to eye up as they get older.

• United States
14 Aug 08
you are right. me, i have 2 younger sisters that i love and protect too. i hope you have a girl next time.

• United States
18 Aug 08
I didn't have a choice, but I have only boys - 6 of them in fact!

• Philippines
18 Aug 08
Once I get married, I'd love to have a son as my first born... Not that I have anything against having a girl... I just find it so ideal to have a son to watch over his baby sister... That would be really cute. Plus I want a son to take care of things when we're not around. Whatever God decides to give, I'll be thankful for it... Can't wait to have one of my own soon...