How do you find BORACAY???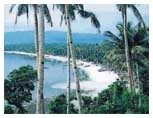 Philippines
August 14, 2008 9:53pm CST
boracay is one of the popular place to go to specialy every summer, the white-fine sand, the hotels, bars and even the food and most of all those hunk and sexy swimmers. How about you how do you find boracay? is it also a paradise?
2 responses

• Philippines
15 Aug 08
I've been to Boracay only once and I must say I really love the place. :) There are loads of activities to try and it is really a 'hot-spot' for celebrity-viewing. xD The hospitality is great (as far as the place we've stayed in is concerned). There are lots of souvenirs to choose from at a cheap cost. =D The only thing that I didn't like perhaps are the prices of grocery items. Lol. They're doubled or tripled the price but nonetheless, boracay is love. :D

• Philippines
15 Aug 08
About the groceries, i think it's ok coz it's just like in high end restos the price is quite high compare to others but its not the food you're paying there but the ambiance, so same as in boracay, you're not really paying there the price of the groceries but the nature that you're seeing. LOL!

• Philippines
15 Aug 08
yep boracay is a favorite vacationing place both for the locals and foreigners alike. it had powder soft sand and clear blue water. lots of activities are being offered there, like snorkeling, island hoping, wind surfing, massage services along the seashore, lost of shopping etc. during the night, you can chance upon bands playing by the sheshore and listen to their music. sad to say, i have only been to the place once before. i remember being very excited and felt that i can live my life out there for good. when it was time to go back home i didn't feel like leaving the place at all. the place kinda felt like a secluded paradise, a secret world.