mac N Cheese, from scratch or from the box?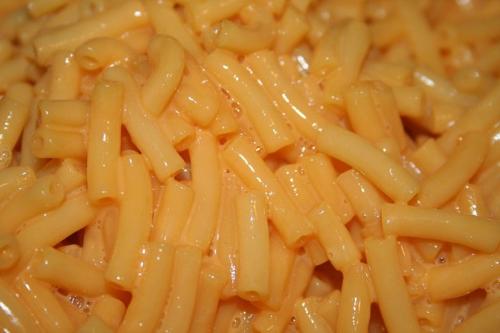 Philippines
August 14, 2008 11:11pm CST
how do you make macaroni & cheese? Do you start from scratch or you just cook it straight from the box? i know this is an all time favorite of kids & even adults. me, it depends on how lazy i am on a specific day. i do have some stocks of ready to cook mac N cheese but most of the time, i love making it from scratch. I like putting velveeta,cheddar & parmesan on it. Sometimes, i even make it with a crusty top...yum!
5 responses

• Canada
15 Aug 08
I am an adult and I love mac and cheese. I love making homemade mac and cheese as to be honest. It tastes a whole lot better than from the box. However sometimes it is just easier to cook it from the box when I am lazy. I do have to have the actually Kraft Dinner and not the generic brand as that doesn't taste as good as the Kraft Dinner.

• Philippines
15 Aug 08
i love kraft and velveeta too when im too lazy. but ur right, homemade, most of the time is better. i dont measure, so my mac & cheese taste different at different times,LOL.

• United States
15 Aug 08
i always make it from scratch like i do most everything. i think that box stuff is awful. my youngest som has always liked it. i use to buy it for him to fix for his luch when i was working. i think he & his wife still use it.

• Philippines
15 Aug 08
different people, different tastebuds =) for me its easier when its from the box but more yummy if its from scratch.

• United States
15 Aug 08
I have always liked it from scratch using Velveeta, but my son hates it that way. He will only eat it out of a box and it has to be Kraft. He won't eat the generic stuff. Picky boy! When one of my brothers comes to visit he always requests that I make him Mac and Cheese with Velveeta and ground turkey with onion and lots of black pepper. I don't really like the box stuff very much. I normally add black pepper to mine when I make it for him to give it some more flavor.

• Philippines
15 Aug 08
when i made one for my niece, i added mashed squash, she didnt even notice. i tricked her to eating her veggie,LOL! kids are sometimes picky but dont you just adore them! =)

• United States
15 Aug 08

Hi and
Welcome to MyLot!!!
I make it both ways. I grew up on Kraft macaroni and cheese and so did my son.

I always have a supply in the house. I also like their 3 cheese macaroni and cheese. Now tonight, I'm making it from scratch. I bought the little bitty bow macaronis and I'll add Velveeta, of course, and a little milk and waalaa, macaroni and cheese. When I make it like that, I like to change up the pasta shapes to make it interesting. lol

[i]Happy MyLotting, Char[/i]


• Philippines
15 Aug 08
if i make mac & cheese for my niece, i make it with the tri-color rotini. its more interesting that way.=) thanks Char!

• Philippines
18 Aug 08
im not really into macaroni and cheese salad. in my country we do macaroni salad by putting mayonnaise, grated cheese, chicken strips, onion chopped, pickles chopped, raisins and hotdogs chopped. boiled the macaroni in a chiken stock. to make it more tastier. put oil and little of salt in the water so the macaroni wont stick with each other. when macaroni is ready dry the water and mix everything on it.