Kitty needs a name.

Canada
August 16, 2008 6:23am CST
A friend of my girlfriend's found a 4-6 week old, solid black kitten wondering in the middle of the road. The gentleman rescued the poor little thing and called my girlfriend right away. We already have 5 beautiful cats and a Cockapoo (who also thinks it's a cat) and have been seriously thinking about bringing this little female kitty into the fold, as the gentleman cannot keep it. It is as I said, "kitty" is solid black, and her eyes color has not yet come in, and appears blackish also. We have gone through the usual list of the typical "black" names, but haven't come up anything we really like. Any suggestions from mylot pet lovers, would be greatly appreciated. commanderxo
8 responses

• United States
16 Aug 08
well I am not sure if the cat is male or female. But I kinda like the name Logan,.

• Canada
16 Aug 08
Thank you Louise.... Logan is a very nice name. We'll add it to the list. And if you happen to come up with any other ideas, the little one is female. cdrxo


• Canada
16 Aug 08
Hey there Boxxxx.... Nice going. Let's see...... Charcoal? Not bad. Coco? Much better. Like it. Cuffy? I'm not sure what that means? Aren't cuffs white? Dundee? You're obviously a "crocodile" fan. Wookie? I always thought that Star Wars Wookies were brown? ....and Chewy? Ah...we like Han Solo too! Yup, the winner there we might go with is Coco. Good work, and thank you for those. cdrxo

• Australia
16 Aug 08
Hi, I love cats. I have four myself....well I guess you could say they have me. If you have cats, you know what I mean. I was thinking of Ebony (a black wood) or Onyx, which is a beautiful black jewel, for your new little miss.

• Canada
16 Aug 08
Hello Meggettie... That's a nice name too! Yeah, we did think of Ebony, but we really love the name Onyx. That's quite neat. Thank you for that one. cdrxo

• United Kingdom
16 Aug 08
My ex loved cats and had 5 of them! And my ex brought home a little black kitten one day she was so adorable! My ex let me name her, I called her Octavia, mainly because she came into our home in October and I always liked the name. I was upset that a kitten was left to wonder in the middle of the road, she could have been easily killed, doesn't bare thinking about, people can be so cruel, I am glad she now has a happy and loving home!

• Canada
16 Aug 08
Octavia? That's nice. Maybe we could call her Augusta...short for August? Like your choice better though. Thank you. cdrxo

• United States
16 Aug 08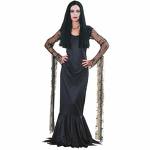 [b][/b]How about Morti, shot for Morticia who was a character on the Adams family. Morti sounds like a good name for a beautiful black female cat. Has she shown personality yet? depending on her personality you may be able to come up with a name for her.

• Canada
16 Aug 08
Morti? WOW. Good one. We were Adams Family fanatics too. Thabk you.


• United States
17 Aug 08
i had a black cat years ago which became my sons grwoing up and he named her alien of all things she had green eyes... black cats seem most intelligent also depending on if its a girl or not will help with picking the name ours was a girl the reason he picked alien was because she was strange she took laundry mostly socks and things...lol

• United States
17 Aug 08
1. Noir Chatte 2. Raven 3. Blackie 4. Knightie 5. Blac Jac 6. Jac Blac 7. Black Dahlia 8. Black Rose 9. Princesse Noir 10. Reine Noir