Got paid by Crewbux!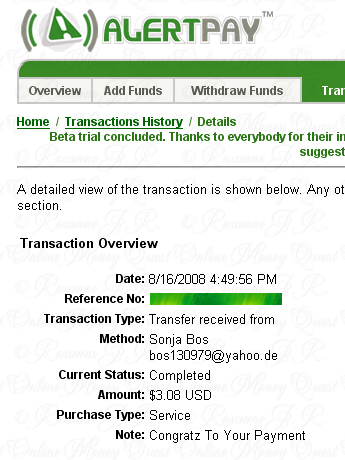 Trinidad And Tobago
August 16, 2008 6:13pm CST
Crewbux is a PTC (paid to click) site and their minimum payout s $2.99USD via Alertpay or Paypal. I made it over their cashout amount and decided to request a payout of $3.08USD this morning. Small amount, I know but the point is I didn't waste my time clicking! I got my payment sometime during the day when I was out. Was very nice to come home and see I got my payment. It's my first payment from a PTC site ever! If you are interested in joining, check out my blog (link in profile) or PM me. Good luck to you all and happy earnings. I'm putting a payment proof in this post for you all to see!
4 responses


• Norway
17 Aug 08
congratulations! I am thinking to buy referral and upgrade in crew bux soon too and glad to hear some more positive things about this site ^^ I will probably purchase something after I have reached my first payout in crewbux which will be in the end of this month ^^

• Trinidad And Tobago
17 Aug 08
Hey, thanks! I definitely have to say it is worth it. I hope you make payout sooner than that though. Have a good one


• Croatia (Hrvatska)
16 Aug 08
hy friend, im glad for you ... im just interested did you actualy get your payment in less then 24 hours, becouse you say that you ask it in mornign and allready has a proof of payment and how much time did you spend to earn those $3