My daughter looks like her grandmother when she was a baby!:)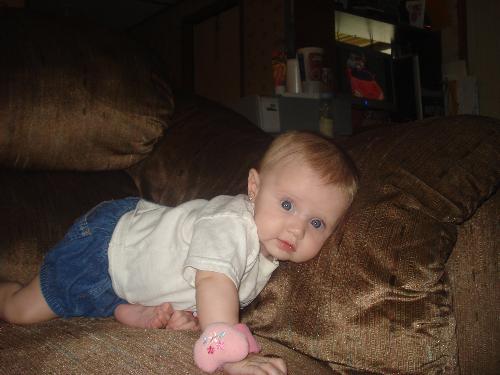 United States
August 16, 2008 10:03pm CST

My mom showed me a picture of her when she was 4 months old (same age my daughter is now) and they look almost identical! I wish i had both pictures to show you side by side but the only difference is my daughter has fatter cheeks. I think it is amazing! My oldest son looks like me.. my youngest son looks like his daddy and my daughter looks like her grandma

Here is the latest picture of my daughter. Maybe my mom will post one of her when was that age so you all can see.

Do you have any kids that look like one your parents?
1 response

• United States
17 Aug 08
Hi SwtJenLove! OMG.... My new baby "Philly" looks soooo much like my dad! It's great! My Dad passed away 2 years agon, never got to meet this grandbaby, but I know, in my heart he does see him, Carp! He is the spitting image of my Dad! Big "ol round head, you know the "Baby Head" LOL You sound very PROUD.. stay that way.. You brought a smile to my face, I thank you for that. HUGS.. You have a beautiful Baby there!

• United States
17 Aug 08

Thank you! Glad i was able to make you so happy!!

Im sure he is looking down on him from above so i wouldnt worry. Thank you as well!


• United States
17 Aug 08
I am sure he is! TY again for the smiles! Beautiful baby you have there! Protect your baby... Now I am going to preach.. Did you know that 43% of children born these days are abducted? Please! Please be aware of where your children are at ALL times.. it only takes one "I was gone for a second" Hug me once, I'll hug you harder, kiss me once, I'll kiss you twice, love me once; I'll Love you forever! Nancie