do you like having fresh flowers in your home?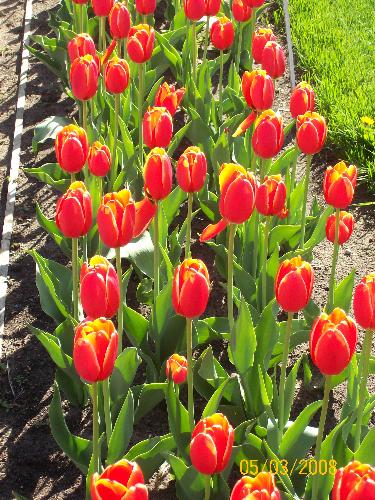 Philippines
August 17, 2008 3:53pm CST
i really wish i have my own garden where i can pick up fresh flowers and keep them indoors.but then i dont=( i will have to get by with buying. i know the very simple malaysian mums costs $7-10 in walmart, thats still alot. but i just cant resist getting it at least once a month. i cant help but smile when i get up in the morning and see a bunch of them in the glass vase on my countertop. sometimes i feel guilty spending on them, but money cant really buy the nice feeling you get when you enjoy these lovely flowers.
8 responses

• Philippines
17 Aug 08
No, but I have some basil, rosemary and some organic herbs near the walkway leading to the main door and also on the porch. The smell of these herbs draws back inside the house, thus it was very very relaxing.

• Philippines
18 Aug 08
i have a pot if basil, parsley,mint and rosemary too. i used to put them in the kitchen but they dont get enough sunlight there, i have no other space for them but in the patio =( so i no longer enjoy their scent...i just enjoy their flavor =)

• Philippines
18 Aug 08
Put it somewhere in the house where wind will draw inside your house like window panes, porch or walkways leading to your doors.

• United States
17 Aug 08
i do love fresh flowers in the house especially buttercups in the spring. i never buy flowers to go in the house tho.they are quite expensive & they don't last long.

• Philippines
18 Aug 08
mine last for 2-3 weeks, i need to wait another month to buy a new bouquet coz i cant afford to spare 5 more bucks for another bunch within the month...

• United States
17 Aug 08
I love having fresh flowers in my home....and like you I do buy some once in a while. The last time I bought a bouquet of yellow daisies and they were marked down at walmart for two bucks....they lasted two weeks! You are right. There is something that makes the day special when you see beautiful flowers adorning your home!

• Philippines
18 Aug 08
i usually wait for that mark down, though the lowest i bought was for $5. yellow daisies are so pretty =)

• United States
17 Aug 08
Yes! But my cat always tries to eat them or somehow knocks the vase over and spills the water! I have tulips that grow in my yard in the spring. If I put the vase up high on the kitchen windowsill the cat doesn't bother them. But I would love to have them sitting in the middle of the diningroom or kitchen table.

• Philippines
18 Aug 08
tulips are my favorite, but i dont buy them, they are soo expensive. i just get tulips when my husband gives me one. and i just adore the field of tulips when we went to sse the tulip festival in Holland, Michigan

•
17 Aug 08
I have mixed feelings on fresh flowers. I love the smell of them, especially when you first come in to a room, and they always brighten the place up with the vibrant colours but it seems such a shame when they die. I had an ex boyfriend who used to buy me fresh flowers all the time and I ened up saying to him to buy me plants, and that way they would stay alive for longer and flower yearly. We also have to be careful in our house as we have a cat, so whenever we get fresh flowers we have to make sure there aren't any lillies in the bunch as these are very poisonous for cats.

• Philippines
18 Aug 08
yeah, i understand how u feel when the flowers die. i use to cut one flower and dry it up so i can preserve its beauty. i would love flowering plants too but apartment living forbids me to do so, very limited space.


• United States
6 Sep 08
I haven't had any fresh flowers in my home for a very long time. I hate it when they die. I used to buy potted plants, leave them out, take care of them, and they lasted a very long time. I would like to buy more, but we live in a apt. I wouldn't want anything to happen to my plants. We're looking to buy some type of indoor plant that does not have flowers that we can keep inside.