Have you ever watched WWE show live in the arena?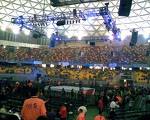 New Zealand
August 19, 2008 7:15am CST
Do WWE team toured the country you live in? Do you ever watched WWE show live in the arena? Or do you ever bought tickets to go and watch them live? If so please share your experience.. If you haven't been in the arena, when and how do you plan to go and watch it live??
4 responses

• United States
20 Aug 08
Yeah ive been to several wrestling events live. Infact this november ill be seeing survivor series live at the td bankworth garden. I cant wait for that, since it will be my 3rd pay per view. I went to summerslam a few years ago I think it was in 06 where hulk hogan faced orton. And I went to go see backlash in 04 or 05 where the main event was batista vs HHH 2. ive also seen a few raw smackdown and ece live love going to wwe shows.

• United States
27 Aug 08
I was lucky to attend Wreslemania 13 in rosemont,il back in 1997. it was alot offunthey taped the matches before the actual wrestlemania so we got to see alot of matches.my favorite was bret hart vs stone cold. the undertaker was amzing to see live as well. u really dont get to understand all that goes on with such a big production until u see it live.

•
26 Aug 08
I did once, I live in South Wales in the UK. It was Wrestlemania 23 Revenge tour and Smackdown was coming to the Cardiff International Arena, I bought Tickets for me and my Brother. ANyway Somew of the best memoires of it was... 1.Matt Striker(who im not a fan of) brung out Hornwoggle before the show started... 2.then inside seeing some of the wsexiest women on TV...The Divas 3.One match was Finlay Vs Kane... I think I was watching FInlay and as I am a huge fan of Kane when Kane's music Hit I actually didnt notice it was Kane until my brother told me, then I got all excited (mainly Kane was one of my favourite wreslters before mask removal, but still is awesome).... 4. Fatal Fourway for the World Heavyweight Championship Mark Henry(,assive) Vs Batista Vs Mr Kennedy Vs Undertaker (c), this was a good solid match and I was impressed with everyone. Kennedy was taking the micky out of the one way systems in Cardiff and calling us all Sheep Shaggers...its all part of his character, but It was awesome anyway...