would you go to a renaissance faire?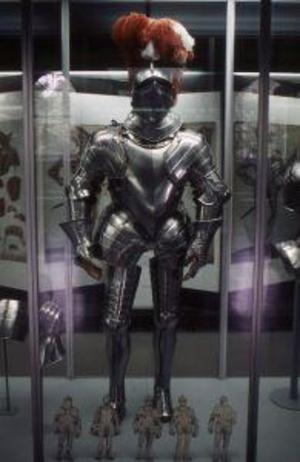 Philippines
August 19, 2008 12:01pm CST
my husband & i enjoys going to places & seeing interesting stuff. theres this renaissannce faire in our area. there will be stage acts, people in costume, a marketplace & a 6 course feast...buy the deal is...the feast & entrance tickets cost $70/pax. im having doubts about it, do you think its worth it & im just being my stingy self again?]if you're in my shoes, would you go?
4 responses

• United States
19 Aug 08
i wouldn't but i just don't care for things like that, if i had the money to do & wanted to i would u are only young once.

• Philippines
19 Aug 08
thanks. im so torn between the new experience & the $140 for just a whole day spending, plus the fuel & the souvenirs... good thing it runs until mid september so i still have time left to think hard about it before deciding.

• United States
20 Aug 08
My family went to one years ago and had a blast. But it didn't cost even close to $70.00. That does seem steep even with inflation from 15 years ago. With a 6 course meal it might be worth it though. Are the participants paid actors? The one we went to was put on by a collage drama club with those that were interested and reinactors. The one we went to had booths and you would see people haggling for items. They had an iron worker making make chain mail and rides. There was also a fight between Robin Hood and little John. The sheriff was walking around trying to get to Robin. WE got to see a trial buy turkey legs and bread as well as other souvenirs. They also put on a joust. My grandson was about 6 at the time and when he saw the sheriff of Nottingham before we knew what was happening he attacked the sheriff with his fists. The poor sheriff was so surprised as we were.

• Philippines
20 Aug 08
i was checking on the menu, seems ok but nothing extra ordinary. just some beets salad, sorbet,and a few more. i was thinking of not having the 6 course meal and just go for the activities, entrance ticket is just $19, so a whole lot cheaper. the story about your grandson & the sheriff is quite funny.=))

• United States
21 Aug 08
The poor sheriff was in shock. My grandson was just trying to protect Robin hood. The fair we went to had food booths so you probably can get something to eat from them and more likely get something you like. Let us know if you go and what you think about it.

• Philippines
20 Aug 08
I would and i think it would be worth the thrill of looking forward to seeing interesting and strange things which a renaissance faire could offer. Treat it as a sort of adventure and look forward to the marketplace. i love seeking out marketplaces because there are so many things that i can see in the marketplace which are either new or strange to me. Every new place i go, i always see to it that the marketplace is in my itinerary. Don't be stingy. Its fun and in case it didn't turn out to be as exciting as you expected, still, the looking forward too, the expectation and the excitement will make up for the disappointment if things don't measure up to your expectations.

• Philippines
20 Aug 08
im sure the marketplace will be good. i've seen some of the pictures. anyways, i still have a few days to think. it runs til mid-september. and if i dont go this year, its an annual kinda thing so i can still go next yr, thanks acevivx!

• United States
19 Aug 08
There is one near our home every year (King Richard's Faire) and we try to make it each year. It's a lot of fun and my family really enjoys it. It does get expensive though. We're a family of 6, and the day can easily run a few hundred dollars if you're buying soveniers and food.

• Philippines
19 Aug 08
it looks like fun. but $140 for both of us just for a day (lunch included) maybe a little expenxive. maybe i'll find a renaissance faire that is a bit cheap,lol.