What made you smile today?

Philippines
8 responses

• United States
19 Aug 08
My son's excitement about going to school, my husband flirting with me over the phone...and just the day in general made me smile today. Course...it isn't difficult for me I'm smilin' constantly. :D

• United States
19 Aug 08
What made me smile was a good friend of mine told me she was getting married, and of course chatting with my boyfriend on yahoo im always makes me smile.

• Shingle Springs, California
19 Aug 08
A friend made me laugh. But danged if I remember what it was exactly...

• China
19 Aug 08
hey frind..!! when my parents call me at that time i m very happy ...bcs i m far from my family my country so i miss them a lot..!! keep lotting..!

• United States
19 Aug 08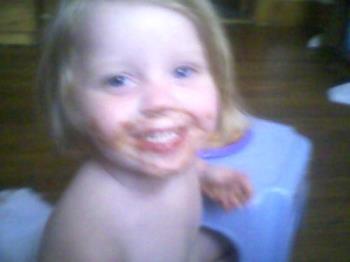 My daughter makes me smile everyday. She always has something funny and cute to say. Or does something crazy. She's 3. Today, I gave her a piece of cake with chocolate frosting, and about 5 minutes later she came to me and said..."mommy, look at me, i ate all my cake" I looked at her and her legs were painted chocolate. I had to laugh. Well.....sometimes, I have to laugh to keep from crying.......lol

• United Kingdom
19 Aug 08
My cat Meg made me smile today, she is a right little madam! She comes and finds you to tell you that her bowl is empty and today she came into my room and starting talking to me in her way and I thought right your bowl is empty ok, so I went downstairs and it was full, I think she wanted some fuss made of her! Either that or she was telling me I was spending too long on the computer.

• United States
19 Aug 08
My nephew. Without fail -- he always does something to brighten my day. Even at 1 year old, he has a personality all his own. :) Great question! Nice way to end the work day.