Do you exercise better late at night?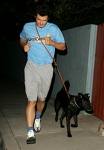 United States
August 20, 2008 12:03am CST
I do and that is the way I have always been. I like to go out after 12am and sometimes later to exercise but I have no schedule that I do it by, just randomly so theres no strangers following me. The reason it suits me so well is that its so much more quieter without all the cars (here, the college kids are usually still in the bars) and its like you have the night all to yourself and its so calming to me. The other thing is that I dont have the strong sun shining right in my face but I do walk alot during the daytime. I just lose my focus if I exercise during the day, probably because Im self conscious still (getting rid of that baby pudge on the stomach) and theres just so much going on, I don't worry like that at night and get my biking or jogging done easily.
5 responses

• China
21 Aug 08
Well, I am doing some running at night, I do not like to do any exercise during the daytime. I have reasons for this. First, I am white complexion, I mean I have very white skin, though our skin color should be light yellow, so I am a bit shy to go out and exercise in front of many people when I am not wearing my tshirt. That is what a lot of people do when they are taking exercise in my country, they would take off their t-shirt. Secondly, I am not really a good athlete.I am really not good at it. So this is another reason that makes me feel shy. I prefer to exercise at night. Have a good day.

• United States
21 Aug 08
Hey, do what works for you, I totally understand how your feeling. After I had kids and tried exercising I couldn't believe how out of the game I was and I used to jog everyday and ride my bike like it was a car, no lie. While I did exercise at night when in top shape previously I still prefer it now and even then I liked the night because I don't like people watching me while I exercise, I can do it in the gym but I think working outside is more strenuous, I wouldnt compare running on a treadmill as the same as running on sidewalks because theres much more range. Hey, better to take precautions than walking around looking like a lobster right, you'll get much more attention as a lobster, lol


• China
21 Aug 08
yep. lol . i will walk as a lobster. Have a good day and keep happy.


• United States
24 Aug 08
your right! I know from experience because I do a lot of walking with my babies and theirs this long strip of road that we walk down to get to main street and I want to puke at all the exhaust you smell and I think most might not even notice unless being exposed to it every day, I already admire construction workers but man I have all new level of respect for them out in all that wicked air pollution and I think its worst between 10am and 3pm--you hit it right on the money and the air does feel clearer at night and you don't get that gunky sticky feeling as I do in the day time.


• United States
20 Aug 08
LOL, I think that would be kind of cool to have a fleet of late night exercisers but I don't see it as a loud thing, theirs swarms of bikers around here because of the state parks surrounding us but their like phantoms passing you buy but you dont really notice them that much.


• United States
20 Aug 08
well whatever you do is not to stop biking to work then, i find that if its about motivation then your better off doing what works for you, because if you stop biking you will look back and find that it was better than doing nothing at all, I often look back at how active I was and how it never seemed like work but no it does and now Im just trying to work it out and find what works for me NOW, and exercising at night just helps me keep calm and I just get stressed out with the commotion during the day when I exercise (strenuos exercise).

• China
20 Aug 08
OH you will do that , it is hard for me .at night ,i just do some easy things ,such as move my hand and legs and i will do that in a quite .and i can keep do that everyday , i do that just when i feel comfy.

• United States
20 Aug 08
Maybe working out at night its not that common, hmm, I must look pretty strange out there, lol