Care for Some Hamster Donuts?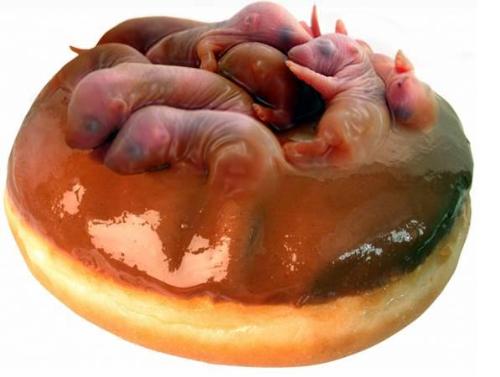 Singapore
August 20, 2008 5:11am CST
Hey friends!

(Be prepared! Disgusting photos attached. Not for the weak stomach!)
Would you care for some
hamster donuts
for breakfast?

This was sent to me by one of my colleagues. Sometimes, I really don't understand the food that some people eat. Imagine having baby hamsters on top of your donuts. Yucks, I don't know how could anyone stomach this!
(Pictures attached)
It is even considered as a delicacy in some countries!!

It just seems so cruel to me and everything (Afterall, they are still babies, and it seems to me that they are newborns - as their eyes are not opened). This is just too disturbing for words. What do you think? Would you dare to eat this? Would you even try them out?
3 responses


• Singapore
22 Aug 08
Lol, thanks for your response!

I am a big fan of both - just that one would end up in my stomach, the other would end up being my pet. Haha!


• United States
21 Aug 08
That's sick. And that photo looks like it was created with Photoshop or something for a school project. I'm not really surprised that this is a delicacy somewhere. Well, what may be cruel and gross to us may not be the same for another. It's just the way of life with different cultures. I personally don't think I could eat that.

• Singapore
21 Aug 08
Thanks for your input

I'm really relieved that it is created with Photoshop and not real. I totally cannot imagine that there is such a 'delicacy' out there in the world, and I too, can't imagine myself stomaching that.

I understand where you are coming from about the way of life of different cultures. I see for myself how some of my friends enjoy pigs internal organs, when I could not even stomach the smell of it, what more eat it. (I'm Chinese, by the way, but I don't eat them).


• Singapore
23 Aug 08
Yeah¬ it's a real sad thing to read about if this picture is true

and not a hoax (like what some mylotters are saying! I hope that its a hoax!)

I too don't eat any other meat besides chicken and fish. Think these are the only 2 animals that humans eat that seems to be universally accepted. Lol. Thanks for your response! Happy Mylotting and have a nice day!