Oh On Power Outage... So what's for dinner????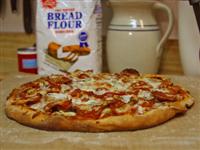 United States
August 20, 2008 12:36pm CST
Many times during the summer months in Florida we find ourselves without power. Summer thunder storms almost always keep us in the dark for at least a little while. When we have weather events like tropical storm Faye or hurricane Charley it can be hours or days or even weeks with no power. I remember thinking how Charley was going to miss us here in SW Florida. I was cooking chicken wings to prep for some time with out power. Little did I know that we would be without power for seven days! After the storm I was trying to figure out how to cook the few things I had left in the freezer so it would not be wasted. I had a gas grill outside so I fired it up. I cooked all the Italian sausage and chicken with BBQ sauce. That was a no brainer. I had a frozen pizza and some steak fries too. Oh yeah I have a baking stone! I put my stone on the grill and cooked the pizza along with the frozen fries. I even made coffee on the grill, boiled the grounds and strained them through the filter. It was great and a real spirit lifter in the middle of a disaster! So tell me, have you ever had to suddenly cook without power? Any ideas or tricks to share?
3 responses

• United States
21 Aug 08
my mother use to fix what she called a cold plate. it wasn't just because we didn't have power, we all loved it. she would fix tomatoes w/tuna fish or chicken salad. cottage cheese w/fruit, a lettuce salad, deviled eggs, sometimes a pimento cheese sandwich would be on there which i still love till this day.she had a variety of things she used at different times. they were all good because i like things like that in the summer when it's so hot.

• United States
21 Aug 08
thank you, u to. thanks for your response. greetings from tennesee.

• United States
21 Aug 08
I think you are amazing to have thought that far. Never would have thought about using a grill let alone a baking stone. Obviously, you are prepared for emergencies. I try and keep on hand things that do not need cooking or refrigeration like canned tuna, chicken, bread, peanut butter etc. In Texas we haven't had power outages for very long, usually it is when a transformer goes out in the area. So it is rarely for more than a few hours. Also keep my manual can opener in the same drawer as the candles and flashlights. I rarely use it, but when the power goes out, I don't want it to be the one thing missing in action when I am hungry. lol

• United States
21 Aug 08
Yeah I have a hurricane pack stored away. Candles batteries flashlights and a candle lighter, you know those long ones. They are most helpful. Since I don't have a gas grill anymore, I keep a bag of charcoal on hand too. Yes I do also stock the cabinet with can goods. Charley just caught us by surprise! Thanks for responding, and welcome to mylot!

• United States
20 Aug 08
Our power went out for about a week once, and we had a blast! We've got a grill, so we pulled big roasts out of the freezer, had neighbors over, and generally had a bit of a party. I was really glad to get the power back on and be able to cook normally, but it wasn't bad for the week. We have occasional blackouts all year, here, so we're pretty good at cooking with no power. I hope you make it through the upcoming storms alright!