How many cds do you own?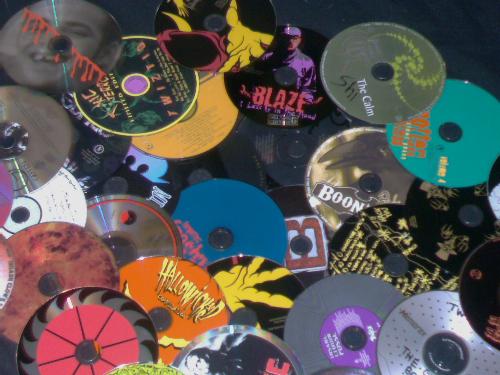 United States
August 23, 2008 6:37pm CST
I was just real bored and so I decided to count how many cds I have. I have 87. Most of them are the original though a few are burned. It's weird. It doesn't seem like I have that many. It doesn't seem like I have very many at all. I know a lot of people who have hundreds. Wish I were one of 'em. How many cds do u have?
9 responses


• United States
23 Aug 08
Me personally, i have only 16 cd's. I use my ipod to store all of my music and most of the time i don't like every song on a cd so i just pick the one's i do like,and download them from itunes and that's then end of it. but yeah i have 16 Cd's

• United States
24 Aug 08
I have nearly 2000 cds! When I bought my first cd player there weren't many artists on cd yet. My first was "Unforgettable Fire" by U2. I turned it up VERY loudly and my neighbor called my landlord to complain. I always bought albums and still have quite a few but the cd's have taken over my house....lol.

• United States
25 Aug 08
That is a great CD. I have been thinking of downsizing and getting rid of some CDs. This must be what it feels like to be a hoarder. I just cannot get rid of any cds without feeling I may want to listen to it again someday. How does one go about downsizing a cd collection?

• China
28 Aug 08
Enn...I had about 200 pieces CDs,with most of them were collected during my time in school and surely the original edition.I don't buy pirate since I believe the timbre is better better better with the original one.

• China
24 Aug 08
I have nothing its ture? all of the song that i listening are downlond from internet.

• India
24 Aug 08
I have more than 20000 CDs. I have a shop of this.

• India
24 Aug 08
Try to have some DVDs and BDs, you must decrease this number. I have only 92 CDs, 27 DVDs and 0 BD of Music, I like classical and instrumental music alot, and most of the CDs which I have of these.

• United States
24 Aug 08
For my fiances last birthday my parents bought us a c.d. book that holds like three hundred and some c.d.s so me and my fiance were able to put all our c.d.s together since we had like four different small c.d. holders,and while we were putting together I think we counted that we have like one hundred and eighty some c.d.s but I am not completely sure because it has been quite a while since we counted and yeah I know it never seems like you have that many c.d.s until you actually take the time to count them.

• United States
23 Aug 08
My fiance and I have a collection of 221 burned cd's and 1,324 that are original! We listen to everything!