Halloween costumes; making, pimping, renting or buying?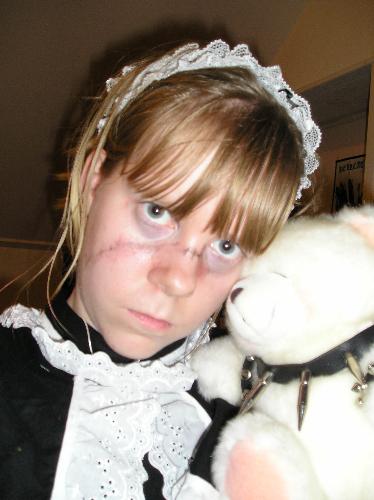 Netherlands
August 24, 2008 6:45am CST
There are lots of ways to get a halloween costume, I'm curious how all you guys get yours. With halloween coming up again it's time for those who want to make a costume theirselve to start planning and getting materials, others make sure they reserve or buy their costume in time. What type of person are you?
One of a kind
No dracula, fairy or witch; you make a one of a kind costume and you do it yourself. You are either good at sowing or you make sure you get help of friends and family and get them all together to have a good time crafting and helping each other out.
Pimper
You get a costume or normal type of clothing and construct it into something brand new. An old overall becomes a mad orthodontists bloody robe or an old pair of leggings and a tight shirt get sown together and added a tail to become a furry kitten.
Renter
You like halloween, but you don't like the fuzz of making your own costume or you simply aren't that crafty. Or you are only going to wear it once so it's a waste of money and time to do so. You make sure you rent your costume in time from a local store.
Buyer
You love halloween but you aren't that crafty, you don't mind spending a lot of money on a great costume. You will use it again or trade with friends for next year or wear it to dress up parties. I'm a one of a kind and sometimes a pimper. I pimp the stuff I can't make myself (bags for example), but dresses, skirts, etc. I do make from scratch. So tell me about you?

.
3 responses

•
28 Dec 08
Hello, believe me Ellie doesn't need a costume she is scary enough! Tongue in cheek, I'm a friend really LOL

• Netherlands
28 Dec 08
She surely will be scary next time you wonder down a lonely alley by you just saying that

lol! No seriously, luckily Ellie has a good sence of humor so you got out of that one, phew!

. And even if she does look scary, that's a real moneysaver for the holidays

.

•
24 Aug 08
Hi Cyberfluf, I go a myself that is usually scary enough LOL. I don't actually celebrate it myself, it is not such a big thing here in the UK but if I did I would probably hire or borrow as I don't even sew a button on well. Ellie :D

• Netherlands
24 Aug 08
LOL, thanks for a lovely reponse, Ellie! It's not that big a hit in Holland either, but the last couple of years it's getting bigger. One of my neices is a huge halloween fan so we have allways celebrated it even when it wasn't celebrated in our country at all. Nowadays only certain areas in Holland really celebrate Halloween. I do think it's a fun holiday and I hope it will become more well known and celebrated around the world. Have a great day!

• Malta
3 Jan 09
We don't have halloween culture here. Ok some guys do dress up during halloween but it is not tha popular on our island. I used to dress up for carnival parties. Usually I would resort to my sister in law who is a good seamstress. However If I am pressed for time I would opt out to rent a costume. (c) ronaldinu 2009 - the more people I meet-the more I love my dog

• Netherlands
4 Jan 09
We don't have a big halloween culture here either, even though it is starting to grow here and more and more people are celebrating it. I would turn to a family member or friend aswell if I knew they were a good seamstress! Luckily my mom is a good seamstress and I know a lot of basic techniques myself aswell, I guess that makes it more fun to do it yourself. Thanks for responding!