Jessie In the Backyard.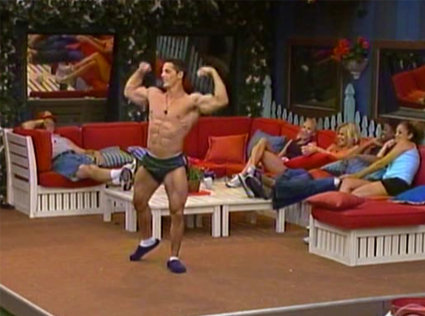 Canada
3 responses

• United States
26 Aug 08
"As soon as I finish admiring myself again, I'm going to talk to the cameras, maybe flip them off, and take a nap." Did you see him on House Calls? He was trying to brush off Gretchen and ED when they said America voted him out. He was convinced that it was all the friends and family of Memphis and Libra doing all the calling. Um, yeah...keep telling yourself that! America doesn't love you like you love yourself, Jessie.


• Canada
26 Aug 08
HAHA! He could be Mr. Universe if he didn't loose all that muscle while being in the house. He needed to keep up the workouts. But mind you they really don't have the equipment that he needed in the house. Thanks for your response.


• Canada
26 Aug 08
I think Jessie is a mommies boy that's for sure. Mind you he did lose a fair amount of his muscles because he didn't do anything. From the time he walked in to the time he walked out he did loose quite alot. Not something that is good for being that size. He needed to keep up his work outs instead of sleeping most of the time.