100 Refferals In Neobux Today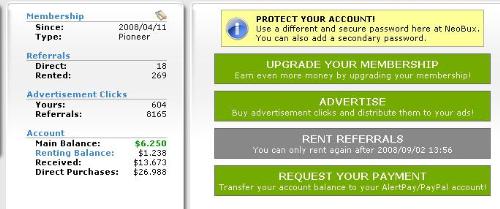 Davao, Philippines
August 26, 2008 1:17am CST
it's another cycle for renting referrals today, minutes ago i rented another 100 referrals in Neobux, it was successfully added to my account. Todate i rented a total of 269 because i dropped 1 referral who was not active. How about you, did you rent referrals in neobux? how many referrals did you rented from them and how many rented referrals todate?
7 responses




• Philippines
27 Aug 08
congrats on your rental. I wish I could also rent easily , now that I am Golden , it's so hard to rent referrals. I hope you will reach your referral goal. Because it is really hard to rent if you are Golden, I might be stuck to my referrals now. I hope I'll be able to rent soon. I don't want to gamble in the jackpot because I'm saving money to get my investment back.



• Philippines
26 Aug 08
wow! thats too much! i haven't have any referrals in neobux but im planning to get as soon as i fix my paypal account.,is it really worth it to get some referrals? well, best of luck buddy! have a nice day ahead!


• Davao, Philippines
27 Aug 08
what happen to you paypal account? is it under limit! i experience the same my account was frozen i can not make any outgoing transactions. Happily, the problem was solve last week and i can now use my paypal as verified user. better if you rent refs so that your earnings will increase.

• China
11 Sep 08
WOW~`Too many refs.I'm still thinking of renting refs in Neobux and in the mean time preparing some fund in my AP.~~lol