Ouch, those waves really ruffed me up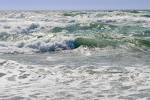 United States
August 26, 2008 1:39am CST
Just came back from the beach and I am sore. I have never seen waves this big and we have been going to the beach regularly this year but I love the water and I cannot say no to it. The first time getting in I was tumbling everywhere-- they were one on top of another and couldnt stay on my boogie board for even the best waves, One I took a nose dive arching my back where I swear my feet hit my head, lol, then later I was thrown (while underwater) by a wave and my ribs smashed into the bottom, ouch. It was one episode after another, still i couldnt say no! I think Tropical Storm Fay had a lot to do with the waves, even saw people surfing which is really uncommon in this area (I do not live near Flordia, 8 hours away). Are you a ham for swimming at the beach or do you prefer sitting it out with a good book? Do you prefer swimming or boogie-boarding? How long do you normally swim when at the beach, me I can literally stay in an hour--not tonight though, I could only manage a half hour at a time, had to take breaks, man were those waves exhausting!
2 responses

• India
26 Aug 08

I have been to beach, just to sit there, walk there with friends, and enjoy every minute out there. As for swimming, no, i don't know how to swim. I am afraid of water. This may be because i was about to drown in waters in Ganga at Waranasi in India in my childhood, before i was rescued! I have a lucky living to answer your quesion!


• United States
26 Aug 08
Your right, I enjoy your company and we always run into each other in discussions, lol, it just wouldnt be the same! I have to admit some of those waves had me scared and the power of the ocean is so enormous that when you experience even it slightly it has me in awe but I love bobbing on the top of the water and it feels so cool when you stare up at the open sky and just float there, its amazing to me. Is the Ganga a popular location for swimming?

• India
26 Aug 08
No, no, Ganga is not for swimming. It's a holy river, a large one, and Waranasi is a pilgrimage centre visited by majority of Indians as also foreigners! It's a holy place! People visit in thousands daily!


• United States
27 Aug 08
I was thinking it was the holy river but then you said Waranasi and I didn't recognizes that name so then I wondered if their were more than one river named with the Ganga title, I heard and saw a video of this place on a National Geographic Documentary once, but its great when I can talk to someone right from the source.



• United States
27 Aug 08
well even though we have been going regularly his year, until last week we had not gone to the beach for a month, I think we kind of wore it out, so it felt nice returning to the beach and me and my bf were talking about how much it felt like a mini vacation this time even though we didnt get a room to stay overnight like we usually do.