How do you feel about using cell phones to purchase products?

United States
8 responses

• Manchester, England
7 Dec 06
I think that the security issues currently existing with mobile phones will have to be seriously addressed before I would consider any such practice. There is far too much talk at the moment about people learning new ways of breaching mobile phones, particularly with bluetooth being so popular at the present. A lot of people are still wary about internet shopping and banking, and the computer is much more secure than a mobile at present.

• United States
8 Dec 06
I agree that I would take caution and wait to make sure it was safe before doing such a thing. I was cautious when online shopping first became available. In my state currently they are doing some testing as we speak to see how this would work and the security issues.

• Indonesia
7 Dec 06
I don't think to buy anything by cell phone. Is it safe ?

• United States
7 Nov 06
I dont purchase too much over the phone any more..;)+

• United States
6 Nov 06
I am not so sure I would participate in that one. I don't think it would be safe to use the cell phone to purchase products, because sometimes you can overhear others cell conversations. It doesn't happen all that often, but it does happen and being my luck someone would steal my info and run up a heck of a bill.


• United States
5 Nov 06
What they are saying about the cell phone is that it will have some kind of capability where they swipe your phone intead of a credit card for purchases. Supposedly it has a better security measure than a credit card but that remains to be seen. :-)

• United States
5 Nov 06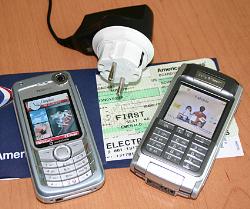 I don't know what to say about that. I still don't feel safe everytime I use my credit card to purchase things online, because of the identiy theft. Cell phone would be a little weird to me. But, I would try it once before I have to make a decision.

• Canada
8 Dec 06
i dont think so that it will really gonna happen. but if does then i think it will be good as it will be work like 2 in 1 ;-)

• United States
8 Dec 06
I am Sorry, but I actually am not for this idea. It would be too easy for someone else to get ahold of my Cell phone and get something I did not autorize, and then I would think Identity theft would increase even more from this, or people loosing money unautorized. I for one hope they never go thru with it, or make it only as an option.