Is it the banks or financial institutions fault???

Australia
August 26, 2008 4:45pm CST
Last night, i watch the pogramme in today's tonight and they are discussing about the large amount of debts that teenagers and many people have nowadays... they are blaming it on the bank and financial institutions for offering them a credit without assessing their current financial situations and keep on offering to increase their credit limits... personally, i disagree with those people who blame the banks or financial institutions... we are the one who requested for a credit card and loans from them... so if we ended up in debts, we can only blame ourselves... they never force us to get a credit card from them or increase our credit limit... it is entirely our decision... and if we choose to do that and can't control our money and spending habit, we can't blame other people... for me, i have total control of how i use my money and credit cards... so even if the banks keep on sending me letters to increase my credit limit, if i say no, they won't do it... what do you think on this matter??? are you the one who blame the banks and financial institutions for your debts or do you think that it is entirely your fault as it is your own decisions??? i just want to know your opinion... thanks in advance for responding and have a great day everybody...
6 responses

• Philippines
27 Aug 08
Very good thinking lingli! I admire you because we really have to put control on how we use our credit cards or taking any form of loans. Why blame these banks and lending institution for being overly indebted. We are the ones deciding for ourselves. Even if they are giving tempting offers if we will not accept then we will not exceed out limit. Of course it is their business to get as many borrowers as they could. They are earning from that kind of business and they have strategies to sell their services. We can never put the blame on them. In a way, they are helping the needy ones, but the one who borrowed must know his capacity. It is his fault if he became to greedy to get all loans he can not afford to pay. Well I for one live according to my means only. I don't even have a credit card. I have been receiving calls from different banks offering me credit cards and loans but I always reject because I don't need one at the moment. My policy is to spend only up to how much my budget could afford. I have a debit card and I am shopping through that to avoid bringing too much cash. The conclusion here is that it is not the bank or financial institution's fault but the borrower's. He is the one who got the loan, he is the one who spent the money, he is the one who spent beyond his means so why blame others for that lack of wisdom

• Australia
27 Aug 08
thanks for responding... that's exactly my thought as well... we are in total control of our money and nobody else can dictate us on how we use our money... if we ended up in a debt situation, that is entirely our fault for not making a wise decision and for not being able to manage our money properly... i never blame the bank or financial institutions for the state that i am in now because i am the one who choose to take the loan... and i have to be responsible for repaying it... take care and have a nice day...

• Pakistan
27 Aug 08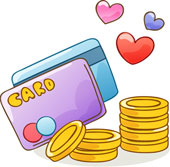 Well, I agree with you,to a certain extend..we can only blame ourselves... But, I will like to mention here..that there should be a program, either by banks or by government..to let this people know the negative side of this loans... Banks do not make aware, the hidden clauses ..In my country..the charge heavily..in a strange way..and the result is very bad. One of my family friend, used his card to travel aboard.He used 60000 and returned 56000 on returning.Bank kept him charging for 60000 for almost one year...and he was not aware.. In another case, the person used 50000, and kept paying for one year,, and when after one year, he had payed back 44000 with mark up, and the balance was still standing at 39000... I DON'T KNOW THE MARK UP POLICY THEY APPLY IN YOUR COUNTRY..

• Australia
27 Aug 08
thanks for responding... wowww... that is really ridiculous... in australia, we have the fixed interest rates on credit cards and loans that we had been told in advance... and they can't just rip us off as they like as we can sue them and they can get fined if they do that... take care and have a nice day...

• Davao, Philippines
26 Aug 08
i dont think i should blame the financial institutions regarding huge debts some people are facing due to credit cards or whatever..since at the end its the card holder will decide if he will going to increase it or not(credit limit) and if they use it properly and manages well then maybe they wont be in that situation..

• Australia
27 Aug 08
thanks for responding... that's what i think as well... we can't blame other people for our actions and decisions as we have total control of our own lives... if we choose to make a wrong and unwise decisions, then it is completely our fault... take care and have a nice day...

• United States
29 Aug 08
I can see this both ways! For a mature adult that understands about financing, money and so forth, I agree that it is our responsibility. But wave those credit cards under teens noses, and all the see are the dollar signs not understanding the full impact of that they have to pay it back! I'm thankful that I've had credit cards in the past, as it has helped me to survive, otherwise I don't use them. I've only got one that I use now, and trying to pay the others off!

• Philippines
28 Aug 08
Hi lingli_78! I do agree with you. It is all up to us if we want to accept the credit cards and spend them in any way we want without thinking that we have the responsibility to settle those amounts incurred. We can't blame anyone for the actions we have taken. We should take responsibility and not point fingers on the bank. Take care always..God Bless!

• United Kingdom
27 Aug 08
I think what some People mean by that is when the Credit Cards just up the Limit without asking I agree it is to the individual Person not to spend it but I also believe that the bank and that should make it a bit harder, here in the UK it is not that easy at all well not for most People But no the Person to blame is one self for not keeping a better eye on the Finances