Ok So I'm a Slacker!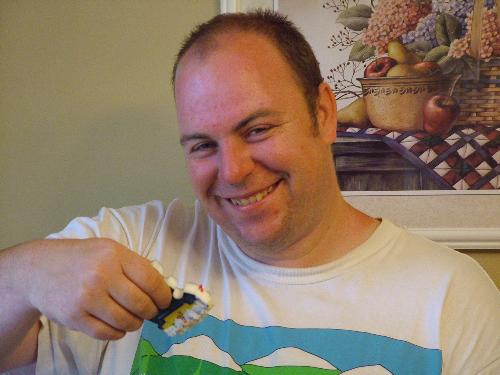 United States
August 27, 2008 5:35am CST
Yesterday I didn't do anything. I didn't clean,I barely got on the computer. I was all out lazy. Why? Well,yesterday was my brothers Birthday. He would have been 32.He passed away May 2 of this year. He was also my best friend.So yesterday I did nothing in celebration of Larry.I miss him more than I could ever explaine.On top of that sadness.I have the pleasure of going to court today with my ex.Let's hope he has some money for me.So I won't be doing much today either. I feel like I am a slaker.Was it normal for me to be upset yesterday? My husband brought me flowers after work. I cried. He fixed supper for us and I cried. We watched Anger Management and I cried. Is it just because of my brother or is something else wrong with me. My Mom and I are still having a rough time with his death and we are getting ready to spread his ashes.Please keep my family in your thoughts and prays as we face this difficult time.Thank you ever so much.
3 responses

• United States
28 Aug 08
There is absolutely nothing wrong with you. Your brother's passng is still fresh scar, so it is perfectly normal to have the feelings that you had. Grief is a long process that you don't get over quickly. The typical grieving process lasts 6 months to a year. I will put you in my prayers and I hope that youcan take comfort in the fact that he is in a better place with no more pain and one day you will all be reunited.

• United States
28 Aug 08
I am glad that there are some understanding people out there. I had a friend tell me once,a couple of months ago,that I needed to get over it. Crying wouldn't bring him back. I felt shame for calling her a friend at that time. Thank you very much for your response.

•
27 Aug 08
i dont think theres anything wrong with youmyou cry all you want,you have lost your best friend,you have every right to mourn him. I am so sorry you lost your brother and i hope you are able to get through this as a family.

• United States
28 Aug 08
Thank you very much for your response. Sometimes we all just need a little reasurance.

• United States
27 Aug 08
I'm sorry you're going through such a rough time right now. Your pain over the loss of your brother is still fresh so, yes, being sad and unmotivated around the time of his birthday is perfectly normal. It takes time to heal after the loss of a loved one so let yourself be sad when you need to be and one day you will realize that you're sad less often. I will keep you and your family in my prayers.

• United States
28 Aug 08
Thank you so much for that. My husband is always telling me not to hold in my emotions but I hate to break down in front of my kids.Thanks again.