What's the best technique to take pictures of glass bead jewelry

United States
August 27, 2008 7:40am CST
I started making glass bead bracelet recently, and I am having a tough time taking good pictures. The pictures always comes out blurry. I have a basic digital camera which I know need updating, but I cannot afford a replacement right now. If anyone has any tips, please share.
5 responses

• United States
27 Aug 08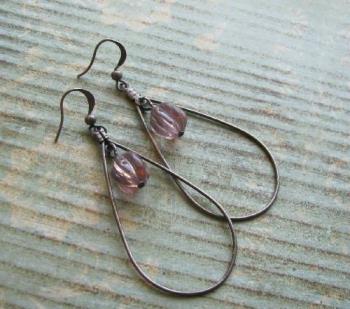 I had the same problem when I began selling on Etsy. My digital camera didn't have a macro setting and I kept getting blurry close-ups. When I took pictures at a distance, I lost a lot of the detail of the piece. I finally went out and bought a Canon PowerShot and my pictures come out pretty good. I always try to use natural light, with no flash and as mentioned already in the thread, I use a bunch of backgrounds. My simple and inexpensive tip for backgrounds... go to Michaels or AC Moore (or your local craft store/dept) and buy a few sheets of scrapbooking paper. You can get a few different backgrounds for very little money. I've been using the same sheets for over a year now. It gives the images in my Etsy shop continuity when buyers see the same backgrounds over and over. For summer items I like to use sand and a starfish as props in one or two photos. Mix it up and give potential buyers a few different looks of the same piece. I included an image of a simple pair of earrings where I used a sheet of scrapbooking paper to give the item a vintage look.

• United States
27 Aug 08
When I first started selling on Etsy, I used a large screwdriver to show my bracelets. I balanced the screwdrive on books until it sat evenly, put my bracelet on the meatal part of the tool and took the picture. It made for a decent image and I took several other pictures, trying to show both detail and color. Try to be as descriptive as possible when adding your item description. If you know anyone with a really good camera, see if you can borrow it for a day, even if you have to take your items and backgrounds to their house to shoot your pictures. It really will help make a big difference in your images.

• United States
31 Aug 08
Make sure you aren't standing too close. I sometimes have a hard time taking pictures of my greeting cards and when I am too close the light reflects off the background and I get a blurred picture. Also make sure you don't have too much light to reflect off the beads themselves.

• Philippines
27 Aug 08
I read this a week ago. As I am thinking of having a business. Well of course you have to put the bracelet in a cloth or table or something.Use natural light, yes, that means the sunlight. Turn off the flash of your camera. Then take a picture. Try it. Hope I could help.

• Canada
27 Aug 08
well background has a lot to do with it and instead of laying the piece flat, why not try and look for a hand to hold it. (I bought a plastic hand at a garage sale and use it to display all my rings and it works quite well) i know they have depression glass hands on ebay (not sure how much though) but it may be worth an investment if you are planning to do this (as well as a new camera).

• United States
2 Sep 08
Ahhh photography, the bane of the jewelry maker's existence! It took me 3 years to even get my pics to the point where I wasn't embarrassed to show them to people (I can thank Etsy for that!) Anyway, some things I have learned along the way... Take your pictures outside in natural light. It seems to really get you the true color the best. Use the macro (tulip) setting on your camera. Background, background, background is key! Use something that compliments your item and shows it off to it's full potential! Stage your item carefully so it looks inviting. Photography is not my strong point, but with some practice, you can take photographs that will show off your item to it's best potential!