First night April and Jerry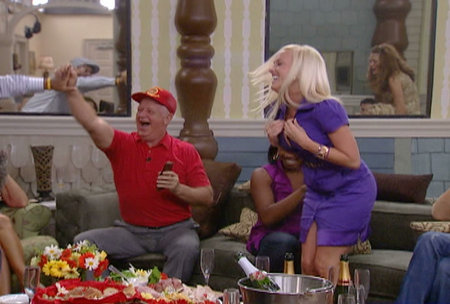 Canada
August 28, 2008 10:13am CST
I am sure we all remember this night. This is the very first day that they were in the house. Remember April had to get EVERYONE to touch her boobs. But hey she is a classy woman right. What caption this can you come up with for April and Jerry?
1 response

• United States
28 Aug 08
Oh yes, I remember this first night well. It just makes me sick too that later on she was talking about how Jerry was grabbing at her when she is the one who went up to him shaking them all in his face wanting him to feel that they are real. LOL "I won that bet, I knew those things were not real, they are fake. You didn't know that I had a pin with me to pop one of them did you?"

• Canada
29 Aug 08
I was quite disgusted with her saying that after the fact as well. We clearly seen that she was shoving them in his face but nope she didn't do it again. It was her twin sister. The evil sister. Do you remember the season that they had the twins on the show and they kepted switching back and forth. I wonder how they would hide them when the other was out and about?