What's The Biggest Insect You've Ever Had Invade Your Home?

Canada
August 28, 2008 12:27pm CST
I just came across this article on my news page, and find it so horrific, scary, terribly sad, etc. What a tragic loss for this family, who have already sacrificed so much. http://uk.news.yahoo.com/skynews/20080828/tuk-giant-spider-bit-pet-dog-to-death-45dbed5.html A number of years back, a close friend of mine found a gigantic 'banana spider,' as she called it, in her home. It was the biggest she'd ever seen. She was pretty sure that it had been transported from the tropics, in a crate of bananas her family had purchased. They live on a farm, and would often buy food in large quantities, such as this. Just hearing her description of the spider really creeped me out. Describe the most humongous insect you've ever seen in your home. Where do you think it came from? Is there a possibility it could have been transported from another country etc.? Have you ever had a pet that was bitten by an insect, causing them to be seriously harmed?
6 responses

• United States
28 Aug 08
My sons last girl friend,well i guess i would have to say some kind of a big black ant.

• Canada
28 Aug 08
Hi mommamusic,

I was wondering who'd be the first to answer, describing a person.

I must say, you did cause me to laugh aloud here, and I can always use a good laugh. I guess it's 'a given' that you didn't care for this girl. Anyway, I also dislike those big black ants. Yuck! Thanks for your response.

• United States
28 Aug 08
no she was not to swift she took all my spoons out of the drawer and put them on the spoon rest on my stove,she ask what that was stupid me said a spoon holder no my hand on the Bible that is the truth.


• Canada
28 Aug 08
Welcome back, weemam.

I trust your computer woes are a thing of the past again. House spiders are enough for me too, and I'm none too thrilled with them. Thanks, as always. xxx

• United States
28 Aug 08
Those creepy, dirty, flying cockroaches!!! They are HUGE!! You try to spray them and they fly at you. They are impossible to get out!

• Canada
28 Aug 08
Ewwwwwwwww! You have flying cockroaches in your area? How horrible. I'm thankful we don't have those up here, as the crawling variety are enough for me. Many years ago, the apartment I was living in was overrun with them, and they were big ones. The super had to get the exterminator in. Thanks for sharing.

•
31 Aug 08
How horrible! We have had some huge though harmless spiders in our house and right now there is a massive Daddy Long Legs flitting around my bedroom creeping me out but nothing dangerous. I know i get these in as i keep the windows open at all times if I can but I am not going to let it stop me! xxx

• Canada
1 Sep 08
Hi mummymo,

How are you? I just hate the looks of them, and can't get past the creepy factor (to me anyway). I've seen some gigantic ones in webs in trees, but thankfully they've never invaded the house. As long as they don't bother me ... Daddy Long Legs give me chills too. Take care, and thanks so much for sharing here. xxx

•
2 Sep 08
Great to see you 'mom! I am ok , same old same old. Hope you are doing well though! You must have known what was going to happen to me as last night I was fixing my pillows (I use a lot and when I lifted the bottom one there was a Huge spider underneath ! Urgh I mean how rude was that - I hung the pillow out of an open window to get rid of it and then put said pillow in the washing! xxxx

• Canada
2 Sep 08
I'm happy that you're able to be back here again. As for me, I've had quite the summer, with a lot more stress than usual, which I don't need. I'm hanging in here though. I had no idea that my topic would be so timely.

I'm glad you were able to 'shake out' the intruder. Yuck!


• Canada
29 Aug 08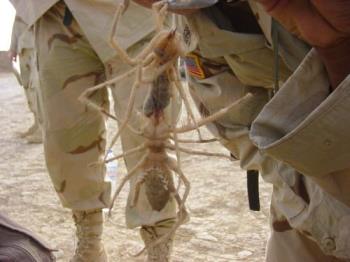 That is absolutely awful!!! I took the time to look at some photos of the camel spider...How could this stow away in your luggage!?!? As for the largest bug...I would have to day a Daddy Long Leg Spider or a Giant Ant Nothing like this! ~Heavens~

• Canada
29 Aug 08
Hi heavens,

I must say, this additional photo you've provided has totally given me the chills. It looks even worse than the picture in the article, which is bad enough. I've never even heard of this type of spider before. I guess it must have crawled inside this soldier's duffel bag, or something. I'm not a fan of the two types of insects you've mentioned either, however nothing I've seen comes close to that humongous spider. Thanks for sharing, as always. Take care.

• Canada
29 Aug 08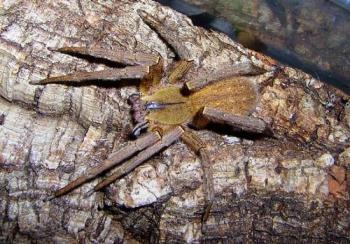 Here's the dangerous one! I guess it is good they look nothing alike!! ~Heavens~

• Canada
29 Aug 08
Thanks for the photos, heavens. I think both of them are absolutely horrible though. Thankfully, my friend and her family were not bitten by whichever type it was.


•
3 Sep 08
I think that it came from Afghanistan Mom. I once saw a HUGE cockroach in Hong Kong. I mean about six inches long and two inches wide. At first I thought that it was a model. Then it moved. So did I!! But my worst experience was in Nepal. I went to the loo in the night, switched on the light and sat down. I heard a buzzing sound and looked up. Flying round the light was the BIGGEST hornet I've ever seen before or since. I needed to go badly - it was truly a fantastic laxative!!

• Canada
3 Sep 08
Hello p1kef1sh,

Ewwwwwwwwww, gross. I hate cockroaches. My sister and brother in law encountered a huge one in Hawaii, a number of years ago. It apparently was so large, that they could see the eyes on it, and they were literally playing a game of cat and mouse with it. Yuck! I detest wasps, hornets, etc., as it is. I'm not sure what I'd have done in your situation. This conjures up disturbing mental images for me.


Years ago when I used to stay at a campground each year, there were always these humongous spiders in 'most' of the washroom stalls. It was a real challenge to find one without a spider in it. Thanks so much for sharing here. Take care.