Using the Rechargable Batteries..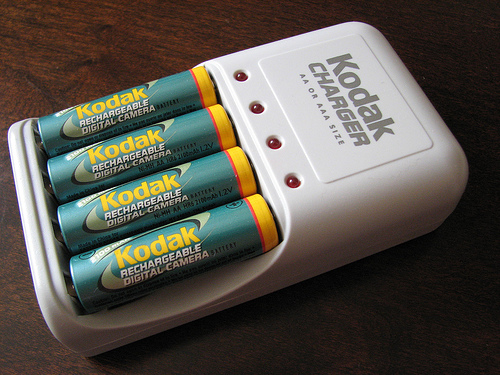 India
August 28, 2008 1:33pm CST
Do you use the Re-chargable Batteries..?? What are all the Benefits of the same..?? What are all the Demerits of the Re-chargable batteries..?? May be cost saving is the Benefit of the Re-charable batteries.. and also, The Power consumption is the Expenses (Cost) know...?? Actually do you know the Real Life of those Re-chargable batteries..?? Post your opinion about this Topic..
3 responses

• United States
28 Aug 08
I think the best thing to do is to use them sometimes. My hubby is a big fan of rechargables, but I dont think they last as long. Alos it's a pain having the outlet taken up with rechargables. I wish that I had them sometimes but I like to usually use the regular batteries. I dont want the rechargables that often.

• United States
28 Aug 08
Re-chargeable batteries definitely have many benefits, including the ability to only need to buy a few instead of large amounts of batteries, which may end up saving you money in the long run, and you don't have to contribute to waste buy throwing loads of them away. However there is one drawback I can think of. The length that they hold a charge, after a few charges, will start to eventually decrease and not hold as long, so items may not stay powered as long after an extended period of time. So just keep that in mind if you get them and wonder why your digital camera keeps dieing really fast.

• United States
28 Aug 08
Batteries are very expensive and I use rechargeable batteries whenever I can. I use my digital camera a lot and it really sucks up the batteries fast. You can get a small recharger and a package of batteries for about the same price as a regular pack of disposal batteries, and can get dozens of charges out of the rechargeable batteries, so it's not hard to figure out that they're are much more cost effective, and of course aren't filling up the landfills as quickly easier.