CHRISTMAS!!! ber months are just a few days away.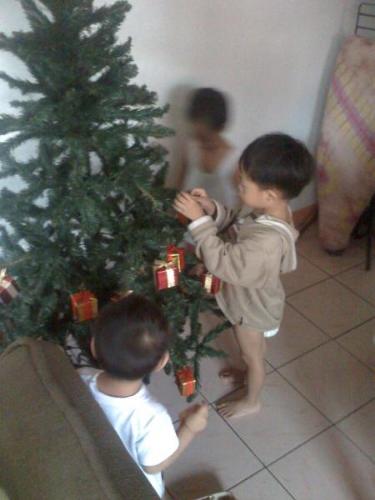 Philippines
August 29, 2008 11:51am CST
Here in my country, when September 1 strikes, local radio station beat each other on playing the first Christmas song to be played on the radio. Here in my country ber months is a start of a long Christmas celebration. As it is in the news today, certain places have already started selling Christmas decorations,. People are also starting to make their Christmas list and some also start doing the shopping. I also knew some really radical on this that starts putting Christmas decors in their house when September 1 strikes. You can go to bargain stores and you will see Christmas lights in there. In streets and highways, Christmas lanterns are on display. There is also a place here where they held an annual contest on the biggest and most beautiful lantern and I am sure people there also starts their preparations now.. And also you could almost feel Christmas when September 1 strikes. Christmas is a very big part of our tradition and we all love celebrating it.. For fellow mylotters is i the same to you? for those who have no Christmas, I am just curious, what do you do during this time of the year? a and lastly I am so hoping that before Christmas come, I have earned enough to buy something from my babies!
3 responses

• United States
30 Aug 08
Christmas is my favorite holiday as well, even though I think I liked it better when my mom did all the decorating and cooking. I hope you do earn enough to buy your babies something as well. they are so adorable. Anyway, we haven't started doing the decorations yet, but the pressure is on for the christmas holiday. I normally start decorating the day after thanksgiving for christmas. this keeps my kids from destroying my tree ornaments (or well it keeps the destruction to a minimum anyway).

• Philippines
30 Aug 08
I almost forgot that there is thanksgiving and Halloween before Christmas.. my first born birthday is just a few days before Halloween so I sometimes decorate the house for that. My Christmas decors comes late, I sometimes decorate 2 weeks before Christmas. but the hard part is putting it down. last Christmas, I decorate late and I put it down just this March




• United States
31 Aug 08
I know how that is. There was one year I didn't decorate for christmas till two days before. I was so tired and I didn't take it down till late either. my son's birthday is a week before halloween so i always decorate for that and then my daughter was born 5 days before christmas.


• Philippines
2 Sep 08
Oh, I really love this season. I feel almost everyone is always happy. I just hope more people will be happier today, thinking of those unfortunate people in Mindanao who are still in the midst of a civil war.

• Philippines
1 Sep 08
Christmas is the most wonderful time of the year and much more it is the most meaningful time of the year. Of course without Christmas, how could redemption of mankind be ever possible. Thanks to Jesus Christ, my Lord and Savior! Your post make me happy because it reminds me of the joyful activities we do during Christmas. Last Christmas our church Ladies group went on Carolling and it was such an experience that give all the Ladies fun and excitement. Of course we were singing in every house to share the glad tidings and to show the real meaning of Christmas. I love also the part that involves decorating the home with all the colorful stuff that will make me feel the spirit of Christmas all the more. The big Christmas tree loaded with all the glittering accessories and the bright colorful Christmas light. How lovely would it be during the night as my family gather round it to feel the wonderful ambience it gives out. How much more the joy of giving gifts to your loved ones and friends. Oh how I love the shopping and wrapping. Although I practically would shop till I drop... but still I love the whole thing. It is such a happy feeling when Christmas eve comes and all the family are in a reunion doing the gift giving and the exchange gifts and all the funny games that will always bring the house down with laughter. Though it all, one thing is very important... to always put the real meaning of Christmas in the center of every Christmas celebration. Afterall, Jesus is the reason for the season. God bless!

• Philippines
2 Sep 08
oh yes mommy we look forward to it every year, though I really had bad one last year. We spend it my relatives but it was not happy as it should be because some of my aunt is talking behind my back. so this year we plan to celebrate it out of town