Getting busy on Helium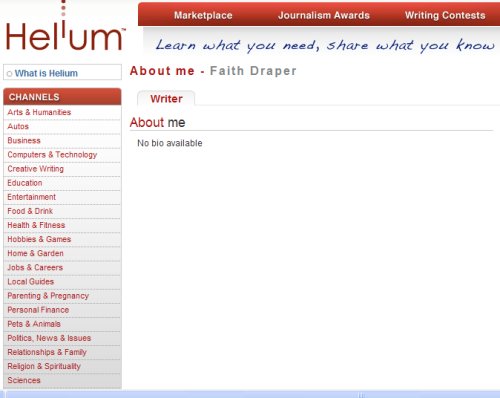 United States
August 29, 2008 12:17pm CST
Ok, have to admit I've been going in a million directions but decided late last night it was about time I did something with my Helium account I signed up for over a year ago. Actually I was experience writers block on an assignment I had to work on so popped into Helium to 'waste some time' and found something I knew I could write on easily. Yep, on top of everything I 'needed' to do I spent an hour or more writing an article. Assignment is finished now and I think it's time to do what I love - write on topics I enjoy:) I do think I'll do a little revamp before submitting my first article to Helium but for the most part feel happy with it . Thing is, I have a few questions. I'm sure some have been answered someplace but I wanted to say hello to all my myLot friends also. #1 I don't even have anything on my "About Me" page at Helium. If you have an account with Helium do you have and what is on your about me page? #2 Should I fill in my About Me page before submitting my first article or does it matter? (please share with me/us) #3 In your 'Helium Favorites' do you list your personal articles written or is that merely for 'friends' on Helium? #4 From this first article I got ideas connected that I would also like to write but don't see titles already - how do you get Helium (I'm assuming you can) to add new titles? Any tips or help from more experienced Helium members would be greatly appreciated. For those who aren't a member of Helium or even know what it is - please give me some encouragment - I am a published author but truth is I am always nervous when submitting my writing, I take everything personal:(
10 responses

• Singapore
29 Aug 08
Hello Faith, I have an account at Helium but I didn't make any money there. Long ago, I uploaded some "old" but original writeups but they were rejected! When I inquired, I was told that I must give them FULL copyright and cannot publish them elsewhere. Faith, you are a writer. You know that not even publishing houses ask for FULL rights! So they want me to take the plunge, write something for them and them only and for an effort worth probably a few hundred bucks, they want to pay me cents? No thanks. I left Helium and didn't even leave a kiss.


• United States
29 Aug 08
I have questioned about the copywrites but at the same time figure these articles I'm really not putting any blood sweat or tears into - what I wrote last night was more like me talking to you :) words just went on and on :)

• Singapore
29 Aug 08
Well, you just can't published them anywhere else except Helium.

• United States
29 Aug 08
Kinda stinks but then I had a writing assignment one time where they wanted 10 articles on the same topic - I mean they actually wanted the same article, same keywords and all, written 10 different ways, For $100 I did it no problem :)


• United States
29 Aug 08
You know Faith we must be somewhat alike in some things..haha..I joined Helium a long time ago after you told me about it and i really liked it but i have not been on helium in so long its pityful..haha...I don't think that i have put anything on my page either,but i did write an article at one time...I really need to go back on and do something.I have just let a lot of things get in my way and i lead a fairly busy life since i am so busy and have a million things going on in my mind...I have pets i care for,a husband that i go with to doctors,i have grown up kids & grandkids .I do a lot of yard work,i usually wash my own cars for exercise & to stay busy ,so i am always doing something..Then i have mylot,you name it i got something going on...I have read some of your helium articles and you are very good at writing but i know that you also stay busy with gardening & lots of things...Sometimes i think i just need to slow down but i never do..Well good luck girl ,just wish you the best and now that you have reminded me i think i will visit helium and try to do a little something ,if they still even remember me that is...


• United States
29 Aug 08
"i usually wash my own cars for exercise & to stay busy" - I can't imagine actually looking for something to do - my list sounds very very much like yours. You must have read someone else articles on Helium - I just an hour ago submitted my first one. I was however thrilled and surprised to see that it has already been published there. That was just too easy :) Now if I could make some money off it :) Let me know, PM, your profile at helium maybe we could help each other out with rating each other :)

• United States
7 Sep 08
hey girl did you ever check your info at helium? If you are still there send me a pm with your profile addy so I can add you to my favorites list over there.


•
29 Aug 08
#1 Your "About Me" page is your storefront and if you want to sell to publishers you should have some information about your work there, and a picture really helps too. If you are a published author you should list your published work. #2 It will not make any difference if you don't fill in your About Me page before submitting your first article, because articles are rated anonymously. If someone has found your article from search results they may want to read about you, and then they may want to read more of your articles after seeing your info. #3 I have not used the 'Helium Favorites' option. I see some people listing their own articles there, but you can also use the featured article to showcase your best article. #4 I have not added any new titles, but I have seen a discussion about it in the Helium community forum. I can recommend you to visit the community forum. You will learn a lot more about the site, you can ask any questions there and you will get help and encouragement from other Helium writers. I have spent a lot of time at Helium this month and it really has paid off. The more articles I add the more money I make from them. I have sold 6 articles to the Marketplace, which is where the real money is to be made. There is a Helium banner on my profile here, linked to my "About Me" page, and links to some of my articles about writing.

• United States
29 Aug 08
Great help, thank you, actually I saw your article title last night when I was playing around at Helium but will admit I didn't take the time to read it - put it on the 'read later' list in my mind. Really great help getting the chance to look at someone else's page too. I looked at several last night but most didn't have anything to write home about or they were like major experts in their field.

• United States
7 Sep 08
Hey paid2 just wanted to let you know (hope you don't mind) but I added you to my favorites over at helium - I've read several of your articles and plan to read more, very informative stuff you offer - thank you.

• United States
29 Aug 08
Hey atleast you are a published author~I have had lots of rejections but nothing published. What is helium? should I look into it? I need to find places online to start writing for (besides AC which I need to get back to doing). I am a writer also and it sure would help us out if I could make some money at it. Like you I too take rejection personally. It hurts!

• United States
29 Aug 08
Ok I joined Helium! I am just cruising around getting a feel for the place. Let me know who you are on helium so I can check out your articles. I am sweetdesign (I try to keep things pretty simple).

• United States
30 Aug 08
Oh now's one time I wish you moved slower or I moved faster - I could have sent you an invite and gotten credit for your joining. Oh well, we can compare notes and still help each other out over there as well as here :)

• United States
30 Aug 08
Oh I wish I would have waited now. I could have helped you out. I am sorry. I just jumped in there with both feet!

• Canada
29 Aug 08
I have not been on Helium since I found out that as a Canadian, I only get points I do not get paid. I would fill in the about me, since you already are a published writer, you have something to write about. I did write an article on fan fiction and put in my own title. I am not an experienced non-fiction writer, so I cannot give any hints, I would list my articles on my profile page so the members here on myLot could look at it. But then again, I am much better at fiction then I am on non-fiction. I seem to such on articles.

• United States
30 Aug 08
LOL - I tried doing fiction a few times but was never happy with it. I do much better at how to's and life experiences. I did just a few minutes ago add a link to my Helium page so hopefully others will find my articles. I also want to add links to my web sites and blogs.

• United States
29 Aug 08
Hi, Faith, you can go to my Helium about page and take a look. You don't have to fill it out before you write, but if someone reads your article and goes there to find out about you, there won't be anything there. Sometimes, your articles can get the attention of someone who might like to hire you for freelance writing, so your about me page is like a little intoductory resume. I'll email you my info so you can look me up. I've written 18 articles on there and only make a few pennies, and have never reached payout yet. If I would work at it, I might do better, but have other things to do. There are contests, but haven't tried them.

• United States
30 Aug 08
Thanks Annie I did take a few minutes and put some on but am sure when I have a bit more time I'll play with it and 'twick' it as I go. From what someone else said the best money is in Market Place but also just getting our work out there for others to see can be a big help down the road. I'm dieing to see what others rate my article.

• United States
29 Aug 08
WEIRD, I was just thinking of when I used to write little stories and things like that for children (when I was growing up I loved to write stories) and then I go to this post and you basically tell me exactly where to go... thank you! I am going to join and see what I can do...

• United States
30 Aug 08
I will tell you to have faith and to keep writing. I have a helium account and have had it for a little over a year now and have only made $1.53, haha. It was tough, but you really have to write and keep writing. When I first signed on, they didnt have all the writing scores, and rating scores and writing percentages but they do now and I think they are good. It helps you to measure your performance and may even give you a sense of motivation so keep at it. In the last month or so, I have been really at it, and that what brought me up to where I am now. I have 23 articles up there with a goal for 50. I hope this serves as some motivation for you to get on there and write away!

• United States
30 Aug 08
Wow, I'm a long way's off from 50 but I've heard of people who have 100s of articles on Helium. I've also heard that it is very slow going earning there but the money is in the MarketPlace and contests which I haven't done any of those yet.

• United States
30 Aug 08
Your right, and 50 is still a long ways away. But when you submit your aticles, it ranks them all within that category. So it feels good to see your article going up and down and being rated by other users, especially when you have done well. Writing on helium inspired me to start my own blog with ideas of importance to me. I am a writer on the side, and thats really where my passion is.

• Canada
30 Aug 08
I never herd of HELIUM hmm i might sign up but can anyone here tell me the website? how it works and everything practically...sounds really interesting XD..If its something that require's lots of work please dont pm im not going to be interested thanks.:)

• United States
30 Aug 08
There is a link on my profile but yes - it does involve lots of work if you consider writing articles that are quality and lengthy. It is much more involved writing than here on myLot where much less is expected.

• United States
3 Sep 08
GO TEAM!!!! :) Quite frankly just reading what you do here on the Lot I can see that you are a good writer. Keep up the good work. And by the way thanks for the information.