Cats 'n' Dogs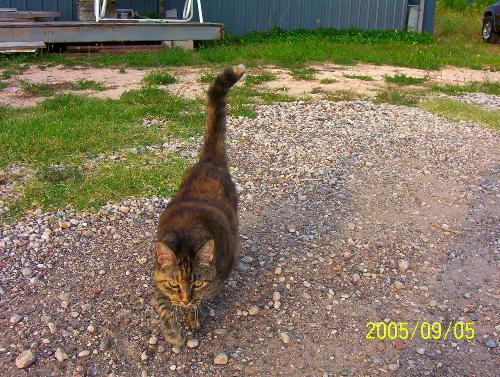 Lubbock, Texas
August 29, 2008 12:19pm CST
How does your cat react to dogs?I have a 14 year old female cat that is part tabby, part calico. She is as territorial as any dog will ever be. Usually when the neighbor's dogs are around if she's outside she heads for a tree and stays until I come out an run the dogs off. They are young, maybe 6 or 8 months old and don't really want to hurt her, they just love to chase things. . .any thing that moves is fair game. This morning I was out in the yard looking around, deep in thought, planning for next season when I heard what sounded like a short burst of air from an air compressor. I jumped and turned around to see what it was. There was my cat about 6 feet from the tree, back arched, hair standing out all over, and the two pups sidling off across the drive way. That short burst was a hissss from her. I shooed them off and started back to the door to let the cat in. Her attitude was soooo funny. She slowly turned around, tail straight up in the air and with a very casual air sauntered back to the door. You could almost hear her saying "don't run, don't run, don't run. They'll chase me if I run".
5 responses

• United States
29 Aug 08
I lucked out and got great advice early on. Feed the cats first and make sure the dogs see you do it. Dogs identify pecking order by who eats first. If you want a good relationship all around, make sure the dog sees you eat, then feed the cats, and finally, the dogs. The dogs will see the cats as higher on the food chain than they are and be respectful of them. They are much less likely to act agressively with the cats. Mind you, it can back fire. My cats push my dogs around all the time. The kitten will follow the dog around swatting her tail. Another cat (who btw has only one eye and 8 toes on each front foot-we say "too many toes, not enough eyes") beats the snot out of my dog at least 3 times a week. We have to put her in check. But it is better. The cats are not bothered by the dogs. They aren't chased or nipped at. No fighting between them at all.

• Lubbock, Texas
29 Aug 08
I wish I'd known that when my daughter insisted on introducing a kitten into a household that contained a dog that considered cats as vermin, rats, weasles, gophers etc. and thought they should all be eaten. I had a heckuva time convincing the dog that the cat belonged. They eventually became best friends, but it was a long hard battle!

• United States
29 Aug 08
My moms cat reacts more to the cats and kittens next door, then she does dogs. She doesn't really seem to have an issue with dogs. A while back, when we were staying at my grandmas, our cat just sniffed at her dog then ignored it. Your cat is really pretty (=

• Lubbock, Texas
29 Aug 08
YeaH! You want to hear a banshee wail, just let another cat come anywhere near our house. You can hear my cat a mile away. If she'd scream like that at the dogs, they'd probably have a heart attack! Thanks, I think she is pretty too, but y'know when you've had a pet for 14 years you become biased.


• United States
29 Aug 08
14 years? Wow! It's amazing how old cats can get. My moms cat is 9, almost 10 years old. We call her Booger because she was the runt :P


• Lubbock, Texas
29 Aug 08

Sounds like the cat my Grandma used to tell me about. Her name was Lady but she wasn't one! She'd tear into the neighbors bull dog any time he even thought about getting close to her.

• United States
29 Aug 08

• Canada
1 Sep 08
The last dog my cat saw was a little tiny daschund, and he didn't have a problem with it. I've never seen him with a larger dog, though. As for my husband's cat, she hates dogs of all kinds, and will bat at the,, and bark at the.