A baby is coming....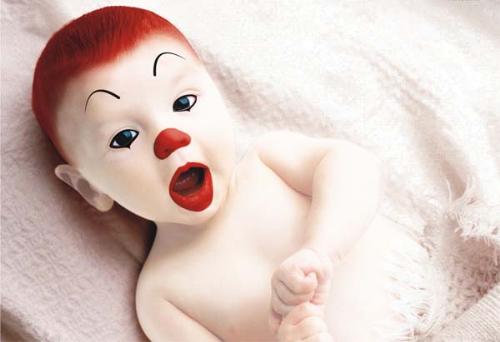 United States
August 30, 2008 1:58am CST
I have a "friend" who's expecting a child. He or she (I honestly do not know) has anger management issues. They push people down stairs, force people into closets, etc. Anyway my question has to due with babies. Would you dress your child up as a clown right after it comes out of the womb or not?
4 responses



• United States
8 Sep 08
I absolutely would not dress my child as a clown. That picture you posted here looks absolutely horrible. Babies are precious gifts from God and no newborn baby should be dressed like the picture shows. To me that is disrespectful of the newborn but that is just my opinion.

• United States
8 Sep 08
Alright, I can respect a solid opinion

• United States
8 Sep 08
I would not dress them up like a clown. Babies are precious and beautiful why would you want to do anything of the sort, especailly with a newborn. My sons first halloween he was 5 months old, and i hesitated to even put a costume on him, but i found a fluffy sleeper type thing and we used taht..but to put makeup on a newborn, odd and just...i dont even know if i can think of another word, except WRONG