What Is Your Blow-Hard Experience?

United States
August 31, 2008 7:38am CST
Have you ever been in a hurricane? What was your experience? In these days when hurricanes are foremost on the minds of many people, I began to reflect on the hurricanes I have experienced. Being born and raised in Miami, FL for the first 20 years of my life, I have experienced several hurricanes as a child; but the one I remember most occured when I was an adult living in Columbia, MS at the time. The name of the storm was Camille. The eye of the storm came right across our little town and left extensive damage. I remember walking outside when the eye came over. I remember how still it was and the atmosphere was very eerie. Even the color of the sky was strange. I'm grateful I wasn't living on the coast at the time because most of serious damage from that storm was from the tornados which were spawned from it. What was your experience?
2 responses

• United States
31 Aug 08
I really haven't experienced much in the way of hurricanes in my lifetime, growing up in Maryland, then moving to Virginia. There was Agnes in 1979 which produced minor flooding and destruction of property and some washed out roads (along with the wind and rain, of course). There was a foot of water right outside the apartment house I was living in at the time. It wasn't too bad, but we all woke up to "doom and devastation" on the radio because Agnes was not supposed to come up into the Chesapeake Bay like it did! It was a surprise to all of us. Then, there was Floyd in 1999. I was living in southern Virginia at the time and we got a lot of wind and some flooding rains but, again, not much destruction. The worst thing that happened, personally, was that I had forgotten to bring in a plastic garbage can outside and saw it floating down the back yard heading for the road. (There was about 4" of floodwater there.) I rolled up my pants and ran outside, barefooted, after the trashcan saying the whole time, "Please don't fall on me, trees, please don't fall on me, trees!". Lastly, in 2004, while back in Maryland, there was Charley. We didn't get much more than some rain and breezy conditions, but our electricity went out and didn't come back on for 4 days. Some lines were down across the street so we had to be careful of them until they were repaired, but the worst was doing without electricity for 4 days. It's not too bad for me, well, it wasn't at the time because I have a lot of hobbies, reading included, that could be done outside during the day, without electricity. The worst, I think was food and cooking. But it wasn't that bad once I took a "camping" attitude and pretended to be camping inside the house! Cooking with propane and charcoal grills (outside, of course), keeping cold food inside a cooler with ice and using mostly canned food, I was able to get by nicely. My sons thought it was the pits, though, because they had to go without their computer games, TV and internet! Poor babies!

• United States
31 Aug 08
It's true, The northern states don't get as much of the winds of a hurricane, but those rains can be devastating as they make their way usually northeast from the Gulf coast or inward from the Atlantic. The 84 flood in Roanoke was the result of a hurricane, the name of which escapes me. I was here at that time and the only thing that saved our home was the fact that it was built on a mound. However, we did experience some back up from our septic tank due to the ground being saturated. My neighbors all around us were completely flooded out. Thanks for your response mentalward.

• United States
1 Sep 08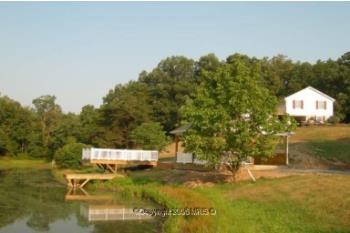 We are lucky here for the same reason. Our house is built on the highest point of the property. We live on a lake, but there were new storm drains installed under the road the year before we moved here. The road used to flood, but since the drains were installed, it wouldn't have a chance. (The drains are HUGE and our property sits on both sides of the road.) I've included a picture of our house, taken from the road. This was one of the MLS listing photos that drew my attention to this particular house. Whomever took this picture sure knew PR! LOL


• United States
1 Sep 08
I live in Nebraska right smack in the middle of the United States so we don't get hurricanes we get alot of rain when hurricanes are hitting somewhre else though. I have seen hurricanes on tv and they really look scary.