OMG! It's wearing a shirt!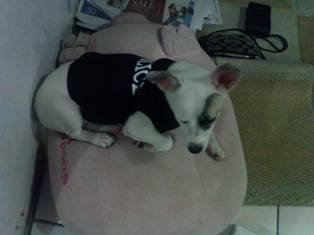 Philippines
September 1, 2008 8:10am CST
I gave a puppy to my bestfriend as a personal gift. It is a cross-breed of an shitzu and a local dog also known as askal (
noun
, asong kalye - a Filipino term for stray dog). She named him Xiefu, based on the animated movie Kung Fu Panda, because of the big brown patch in his eyes. It is a small dog and a cute indoor playmate. He becomes the toy of every member of my bestfriend's home. Today, I was surprised that my best friend showed me a picture of Xiefu, wearing a T-shirt specially made for dogs! It was a black shirt with the word POLICE on its back. It was kinda cute and it made the small dog a dog to be "afraid" of.

I think it suits him. Are you also into dressing up your pet? How do you decide what he/she should wear?
3 responses

• Indonesia
1 Sep 08
Hihi! he is so cute with that shirt! How is Xiefu react with this shirt? is he wanna cake it of?

• Philippines
1 Sep 08
I asked my best friend if Xiefu wanted to take it off. She said Xiefu didn't bother wearing it, he must have been comfortable the first time he wears it. It's amazing how he reacted that way since I expected him to try to take the shirt off of him.

• Indonesia
1 Sep 08
Hahaha! si funny! he likes wearing a shirt!


• Canada
2 Sep 08
I'm not into dressing my dog - i think its kind of silly and that all the other little dogs laugh at the ones in clothes. My exception to the dressing rule is when its REALLY cold out and you ahve a little dog thats been groomed to be an indoor dog...it needs something to protect it from the elements when it goes outdoors. I have a little fleece dog jacket (looks like a half circle that velcros under the belly and around the neck. for my bichon shih tzu when its -40c out.

• Canada
1 Nov 09
My husband and I have never ever dressed a pet, and we are not really excited to see pets in clothes either. However, live and let live. People are going to do what they are going to do, and we can't stop them if we disagree, so we just do our thing, and they just do theirs.