I thought this was supposed to be relaxing

United States
September 1, 2008 5:08pm CST
We have been fighting and arguing all day over how the gardein should be built, how big the backyard is (by the way the spot where the raised beds are going to be is 207 inches x 250 inches), which way the beds should run, should we cut down the bushes, where to put the gourds,watermellon,pumpkins,and squash, how to plant the afforementioned plants. The list goes on and on. I am worn out. Now we are fighting about how many tires (for growing the potatoes and stuff in we can get them for free) can fit in the trunk of the car. I need a vacation from home.
5 responses

• United States
1 Sep 08
Are you ready to go back to work? Hey, gardening is supposed to be fun. Hubby and I could never agree on any of the outdoor gardening issues either, which is one reason we both feel good about living in upstairs condos, especially now that we've learned to have really nice indoor plants with the help of the AeroGrow folks. Hydroculture is so neat and tidy compared to the tires and stuff. Those tires are wonderful for growing potatoes, though, aren't they!

• United States
2 Sep 08
If I were to try to garden in tires someone would call the city and complain, I bet. I have a bunch of old washing machine tubs I always wanted to garden in, but for now they are in the basement. You guessed it, someone complained. How I wish I lived in the country, or had a privacy fence.

• United States
2 Sep 08
Where are all these sightly yard police when rowdy absentee owner's tenants get drunk in the spa or pool at 1 a.m. and turn their boom boxes up, drape their towels over the balconies, fail to scoop after their dogs, etc? I wonder!

• United States
2 Sep 08
I have a privacy fence around our backyard so they can't see my garden. Also as long as it can't be seen from the street the HOA won't say anything cause it is none of thier business. If we lived by the pond we wouldn't even be allowed to have our fence so I am glad we don't live by the pond.

• United States
2 Sep 08
My wife doesn't argue with me about the gardens here. I do most the work so it is mine and my decision on items and locations etc etc. HAPPY POSTINGS FROM GRANDPA BOB!!~

• United States
2 Sep 08
I think we have finally ironed it out. The one who was fighting the most (mom) hasn't been out in the backyard in atleast a year so she doesn't remember the size or how it looks. LOL so I went out and took pics and measurements to explain it to her.

• United States
3 Sep 08
Oh dear that doesn't sound like fun but it is often that gardening is not fun - I spent the day knee deep in corn. Picked what was left in the garden, husked, and bagged for freezer. 50 gallon bags and then some - that was 2 small and 1 large wheelbarrel full of corn. It's small ears but great tasting - super super sweet. Hard hot work but worth it. Best of luck with the garden plans :)

• United States
3 Sep 08
Wow girl I wondered where you were now I know knee deep in corn LOL.

• United States
3 Sep 08
LOL - afraid corn just accounted for yesterday. Last week I started doing freelance writing for a new company and although not 'difficult' jobs they have involved a lot of research which has taken way too much time on my part. Have another assignment for them today and it's looking like they are going to be keeping me busy regularly so myLot for the time being will be 'hit and miss':(

• United States
2 Sep 08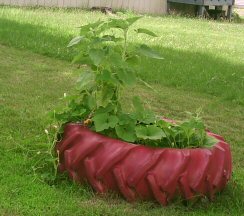 Years ago I planted things. I went out and got several tractor tires and painted the outside of them. I planted my plants in them and they grew like wildfire. I really enjoyed them and I think the rubber in the tires created more heat to help them grow...just a thought. Good luck on the garden. **AT PEACE WITHIN** ~~STAND STRONG IN YOUR BELIEFS~~

• United States
2 Sep 08
My grandmother used to use old tires for planters all the time. For whatever reason it does work an works well.

• United States
3 Sep 08
When I first did it my Mom thought I was nuts but when she saw how great my plants looked she loved them. When we moved my Mom insisted I give her the tires and now they are in her yard full of her plants LOL **AT PEACE WITHIN** ~~STAND STRONG IN YOUR BELIEFS~~

• United States
2 Sep 08
Please explain to me how to plant potatoes in tires. I have never heard of this. Just come on over here to myLot and have your little vacation. We won't argue, but will enjoy learning what you know.

• United States
2 Sep 08
ok you take your old tires and stack them up, fill them with your dirt (soild compost manure what have you) and take your seed potatoes and plant them like you would in the ground. When they have matured you just start taking those tires off the stack again and voila potatoes!!I am going to grow my carrots, and other root veggies in tires too but I won't ustack those just pull up the ones I want to harvest.