Do you believe in Fairies?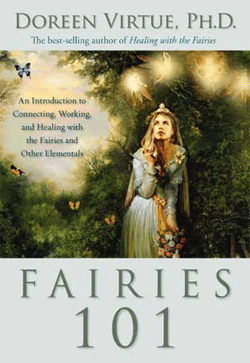 Australia
September 3, 2008 2:34am CST
I picked up a book at the local bookstore called Fairies 101 by Doreen Virtue. It says that Fairies/Faeries are not a myth, but are real creatures, called elementals that exist on a different level than us! I was amazed! The book tells people how to contact the fairies (you have to be kind to animals and the environment), and you have to have a nice garden that is not too landscaped. If you see butterflies or dragonflies in your garden, or little mushrooms pop up, you know that the fairies are living in your garden! I went outside today and there was a dragonfly, so they must be in my garden too!!Do you believe in fairies? Have you ever seen a fairy? Tell me your thoughts and experiences!
2 responses

• Philippines
3 Sep 08
I havent seen one but i do believe in fairies dont have any experience with them but some of my friends told me about their experiences with the supernatural beings and my mom told me that butterflies are fairies that guards the garden.

• Australia
3 Sep 08
Wow that's excellent, it's great your mum told you that, it's really interesting. What nationality are you?

• Philippines
3 Sep 08
Hello there.. well frankly speaking.. i don't believe on such things coz i think they don't really exist... If they do exist, then why keep hiding? They got magics? And as we all know magic isn't true.. So there are no fairies for me... And i always look up at my garden.. seeing many mushrooms,butterflies, caterpillars, dragonflies in it.. But i don't touch them coz they add the beautification on my garden and every visitor likes it =) Happy mylotting mate and goodluck on this thread =)

• Australia
3 Sep 08
Thanks wenczmastah. How do "we all know" magic isn't true? And i didn't say that fairies was something magic. :) It's great you have so many wonderful animals in your garden, it must be thriving! Happy mylotting to you too.