Why do you think people swear/ curse, use bad language?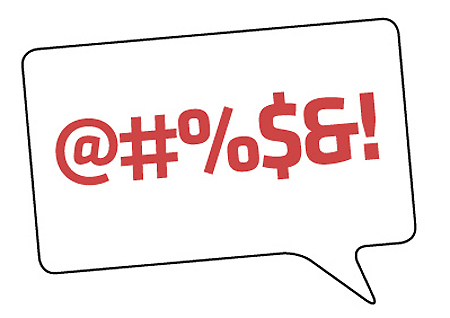 Atlantic City, New Jersey
September 3, 2008 1:36pm CST
Now I'll be the first one to admit that at times- I have a mouth like a little 4'11" manly truck driver- even though I am a feminine young lady. But sometimes I catch myself and am disgusted by how it sounded and wonder why I resort to bad language so quickly. Was wondering what my fellow mylotters thought about this. The times I think we swear, curse, use bad launguage the most are:When we are upset -When we are down -If some thing bad happens -To get back at people -As a reaction - when you hit your head -As a strong expression, i.e., when something is really good or bad -To fit in -Don't have the proper vocabulary to express ourselves without harsh words at times. Anyone got any other suggestions about why we resort to bad launguage? Do you tend to curse a lot? Or did you grow up on a non-cursing household?
6 responses

• United States
5 Sep 08
I grew up where I can't recall if my mom sword and dad only infrequently and then only when driving. I remember getting my mouth washed out with Ivory Soap for saying Darn! As a teenager, I recall every other word out of my mouth being F! But I grew out of it, and only swear when I'm so angry that I can't think of anything else to say!

• Atlantic City, New Jersey
7 Sep 08
Kudos to you for controlling it and only using when angry- I'll get there one day :)

• United States
7 Sep 08
Thank you--I'm sitting here making up NEW cursewords for my computer, as if it would run any faster!

• India
4 Sep 08
I don't like to speak bad language and never do that also, even I'm angry with someone. I'm like that since my childhood. I still remember, when I was a young child, I picked bad words from other children in the street and used in front of my mother and she became so furious that she punished me heavily. So was the impression of that event in my mind that I could never used these words again and later on this became my habit. I think, we speak these words when we are either under tension or frustrated or feeling helpless about something and things are not moving as per our plan. Speaking foul language is really bad but if you are habitual to it, then it may be very difficult to leave altogether, though you can try to reduce it.

• Atlantic City, New Jersey
7 Sep 08
I think your right about being a habitual offender- to me cursing, speaking foul language - is a bad habit just like smoking (which is another i have)- it's hard to kick the habit!

• India
9 Sep 08
But, I think, we can try to control this habit, maybe by being more cautious.

• Canada
7 Sep 08
lol I think people swear to get the point across. When your mad and you yell a swear or two, people take it a bit more seriously how mad you actually are. Also if you slip out a swear when you hurt yourself, it emphasizes how painful it actually was.

• Atlantic City, New Jersey
10 Sep 08
Seems to make sense to me.... it definitely does get the point across when your mad or hurt :)

• United States
3 Sep 08
OMG. I'm 4'11" too. And yes I do curse too and i don't really catch myself to tell you the truth. I curse when I am pissed of or stressed and I really can't help it. My mother does curse a bit here and there but I think that I curse the most of all my family members. When people meet me they think that I am this nice little girl and I am to tell you the truth. But If I get mad or stressed like I said I tend to curse and I don't stop until I don't have anything to say.

• Atlantic City, New Jersey
3 Sep 08
HAHA yes we are a small but cute breed us under 5'....lol. I also think I tend to curse alot because of my size and no one seems to take me seriously unless I'm raising my voice and using bad language...ain't that about a b
@
&ch!!! lol

• Shingle Springs, California
3 Sep 08
When I'm upset or frustrated mostly, but I watch it ever since I had kids. My husband used to say "Jesus Christ" when he was upset and our daughter picked up on that one right away!

• Atlantic City, New Jersey
3 Sep 08
Kids will pick up on the darndest things quicker than we can blink an eye! They tend to mimic adults around them- which is probably why I curse the way I do- my mother has a mouth like a truck driver ;)

• United States
11 Sep 08
Because they hear it so much on tv that bad language has become part of regular language. I can remember when H-E double hockey sticks got ones mouth washed out with soap - now they say it on tv, in news speechs - everywhere. I think many use it cause they have nothing better to say. I think most use it cause they think it makes them appear more important. I thin most use it cause they didn't learn anything any better. What's the difference bewteen saying "fudge" and the other similar one? One makes you "look tough" and the other is now deemed childish. What worked back 40 years ago, doesn't work today. Why? Arrogance