Why girls with long hair???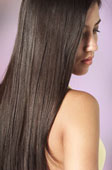 Philippines
September 4, 2008 3:16am CST
I am just curious, why alot of men found woman with long hair are more attractive that with short hair? what are the reasons behind having a long hair? do they found that woman more lady like? Anybody are welcome to post their comment especially guys out there...
7 responses

• United States
16 Aug 09
long hair cover up the sides of your face and many ppl don't look good from the side. i know i don't!

• Philippines
17 Aug 09
but for others espacially men, they found it more attractive and more lady like than to those who have a short hair. I know somebody who has that point of view, He said that to him it is more lady like coz it shows how that lady give time to take care of her hair and and He found it more sexy coz it follows every womans move. I dunno, but i guess i depend on each every person.

• Philippines
4 Sep 08
I am one of those men who adore girls with long hair. The hair really compliments a woman overall look. It gives a different kind of charm or glow to a woman. If a woman can handle a long hair, it's like saying she can handle big things in life. I just can't imagine how hard it is to handle long hair.

• India
17 Aug 09
I think men like the difference. They mostly cannot keep long hair and women can. Besides it makes them feel she is sexier. I guess it is because they like to run their fingers in the hair, and feel its length and softness. I have always had short hair, say shoulder length or shorter, but by Gods grace Ive never had this problem. Ive had my share of boyfriends, hehe. Yes, even my husband likes me to grow my hair, but being curly they tend to look untidy, so now he has to live with my short hair. Poor guy !


• India
5 Sep 08
IT IS THE TREASURE FOR A GIRL.and everybody loves people who are wealthy. so, guys always love girls who have long hair. also, it is a general notion that long haired girls are serene, reserved and not loud mouthed...

• Denmark
4 Sep 08
Im not so sure but i like girls with longer because it dresses them better and makes them look alot better because it makes them more attractive.

• Canada
4 Sep 08
I always thought it was because men love to play with it and run their fingers through it.