You like online shopping or direct shopping?

India
September 4, 2008 5:27am CST
Hi friends,I haven't had the experience of shopping online.Online shopping saves time.But even then bargaining and shopping is great experience,even though its stressful.I love to shop directly.Nowadays wholesale online shopping has widened and reaches its heights.It also carries different attractive offers and discounts. How do you like to shop?Your experiences (good and bad)related to online and direct shopping?
9 responses

•
4 Sep 08
It depends what it is i intend to buy, if its something that needs sizeing like clothes or shoes a prefer to go at a shop where you can try them on because not all size 5 shoes are the same! Lol and its easier than ordering the shoes online and having to send them back because they dont fit! If its something unusual or something not available in my area then i'l turn to online shopping because it has a much broader spectrum of items available than standard shopping

• India
5 Sep 08
Hi Beaver,I do agree with you that we can shop only certain items online and items regarding size we need direct purchase only.Thanks for sharing.Keep mylotting.



• Philippines
5 Sep 08
I go for direct shopping. I want to see the products with my own eyes before buying it. Sometimes what you see in the photos are deceiving. So it is better for me to go the shop and choose the items I find suitable to my taste. It is enjoyable too. It is my way of winding up so I shop a lot and I do it till I drop.

• India
5 Sep 08
Hi salonga,I have the same opinion about direct shopping and I love to go out shopping.Thanks for sharing.Happy mylotting.



• United States
5 Sep 08
I like to shop online because there are no lines but the only down side to that is that you have to wait for your items as well as if they are clothes, being a female its best to try them on unless you shop at the store regularly. Direct shopping is ok but sometimes it can be the pits because the lines are extremely long and things don't ring up correctly or you have to wait on management becuase of certain customers. Both is a great form of shopping and you just may catch more on sale in store but online always seems to have their little treats too.

• India
5 Sep 08
Hi friend,Its true that online shopping keeps our purchase limited .Thanks for sharing.Happy mylotting.


• Pakistan
4 Sep 08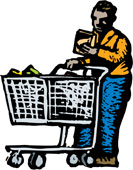 Hello dear..I prefer direct shopping..because..I live in the heart of a metro city.. All malls and supermarkets, famous shopping areas are with in a radius of 10 to 12 Kms ..maximum.So ...no problem in shopping directly...for it is more convenient....

• India
5 Sep 08
Hi intimate, Happy to see your response.I too like shopping directly.I enjoy going out shopping.You would be haunted with doubts all the time when you shop online ,whether the purchase done is good or bad.Thanks for sharing.Happy mylotting.


• Philippines
4 Sep 08
Hi!

I pretty much like both shopping online or directly. I shop directly because it's fun to roam around the mall and "hunt" for certain items and eventually find them. It's also better because I can examine the items I want to buy more closely. I also like online shopping because I get to buy stuff that I want but are not found in the local market. The difficult part is the payment. But at least now, there are lots of easier ways to pay online safely. So cheers for both shopping methods!


• India
5 Sep 08
Hi friend,Its true that direct purchase is something enjoyable and online is we would be haunted with doubts whether we had done a good purchase or not.Thanks for sharing,happy mylotting.


• Philippines
24 Sep 10
i love shopping,but shopping that i can afford and i can make discounts aside from sale items.its best to shop online to save time if you have already purchsed it before shopping outside because you already saw the product and its quality.shopping is one way for me to relax if im stressed and worrying too much.i buy the things i really love and take care of it as if its part of my family.

• United States
10 Sep 08
I mostly like to direct shop, then only time I really ever shop online is when there is something I have to have and am unable to find it elsewhere. Especially with clothes I have to make sure I have a good idea of what I am getting and make sure I am getting the right size and everything, that is not something I can eaisly do from my computer.

• India
6 Sep 08
I prefer direct shopping than online.It is very difficult to get a full picture of the the product through online shopping.After getting the first payment from mylot,i did my first online shopping through ebay.

• United States
6 Sep 08
I prefer shopping in person. I do buy hard to find stuff online, shoes, and clothing. I've bought a lot of textbooks I had needed previously. Most of the time I buy online I receieve what I order in a timely manner, and it's very convient. But if I have the time, I prefer to buy in person.