What is Marriage?

September 4, 2008 9:16pm CST
It's more than a feeling, its a commitment. Do you agree?
5 responses

• Philippines
5 Sep 08
Marriage... is the proof of trust... love and sacrifice.

• United States
5 Sep 08
I believe marriage is just a legal technicality.

• India
5 Sep 08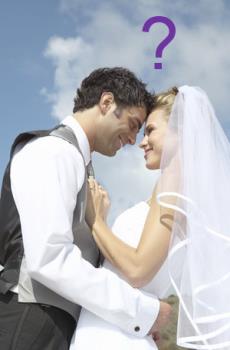 Marriage is like a good recipe where you can find the main ingredients as love, commitment, trust, honesty, respect, understanding, concern and togetherness. This ingredients will help you to make your relationship a successful one. Marriage is not just coming together of two individuals. There is much more to it. Marriage does not come merely through finding the right mate, but through being the right mate.

• United States
5 Sep 08
Nope, I don't. Marriage is just a promise in front of a person of the cloth and a room full of witnesses. It's a piece of paper claiming ownership, like a title or a deed. My boyfriend and I have been together for 4 1/2 years, and we have no plans to get married. Why would we want to do that? Everything is great like it is. Marriage is totally overrated. I got married once. It took about 30 minutes and cost $50. Our divorce took 9 months and cost me $750. I'm in no hurry to do that again. We are as close as any married couple, and we have not had one fight. Not even an argument. I think marriage would ruin our relationship. No thanks.

• Shingle Springs, California
5 Sep 08
It's a legal agreement for the purpose of legitimization of children and property rights. Also, if you are religious, a moral commitment before God.