What kind of the furniture at your home?

Guangzhou, China
September 5, 2008 1:08am CST
We don't use sofa any more although it's quite comfortable. We use wooden furniture today. It looks nice all the time and it won't change as time goes by. And even it may become to antique after a long time. Whereas the shape of the sofa looks worse and worse after some time. Besides, it's easy to clean the wooden furniture.
9 responses

• Malaysia
5 Sep 08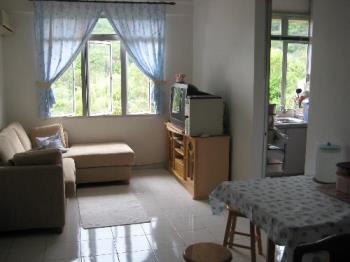 Hi attach is the furniture in my living room and the dining area. The dining table can be open up but since there's only my husband and me we have folded the dining table up into half. It's a foldable dining table. The sofa we have is very "cushiony" Therefore its nice to sit especially when watching movie/tv. My husband will always sit near the window where the extended sofa is. I agree with you that wooden furniture is nice and yes they won't go out of trend. There's also a study table in our living room made of teak wood. Its a very heavy study table. The cleaning of our sofa is done by using the vacuum cleaner. Wherelse the tv rack which is made of wood is wiped by me using a damped cloth. Dining table is also made of wood but I have put a table cloth over it. Cloth is washed every week.


• Malaysia
5 Sep 08

A working from home housewife I am............


• India
16 Sep 08
We have a really old set of furniture,some thing like 40 years old.Normally we wont sit there.as its placed in the Hall.We have some 3 cane chairs,which we normally use.The good news is that we are planning to get a sofa in the coming days.Its so costly to get a good sofa.Something like 500-600USD.In the coming days we will get our new sofa.Thank you for having this discussion.Good luck to you

• United Kingdom
7 Sep 08
In my lounge I have a three seater sofa, a blue play mat, a high chair, and Mexican style pine furniture. I have a book case, a display case, a cupboard, two coffee tables, a black dining table and wooden chairs. In my kitchen I have pine units, a washing machine, a dryer, a fridge, a micro wave, a cooker and a sink. In my hall I have a display case. In my bedroom I have a black metal bed and pine furniture. I have a cupboard and two chests of drawers. In my children's bedroom I have a bed, a cot, a chest of drawers and a cupboard. My bathroom suite is white and I have a toilet, a hand basin and a bath. I have a en suite shower in my bedroom. I really like wooden furniture.

• China
7 Sep 08
In my home,there are comfortable sofa.In fact,i seldom see wooden furniture.but there is no denying the fact that the wooden furniture is eay to clean and vindicate.Now the sofa in my home is old.The first color is white,but now it is cream-colored.It is really worse and worse after times.I think i will change it within last 3 years.but i will also choose sofa.It is easy for me to lie in that.I love watching TV lying in sofa with eating.I am lazy.


• Philippines
6 Sep 08
Hi youless! I do use wooden furniture although I do have cushions made for them to sit on. I really want to sit on something soft. haha..But I do agree with you that in time, the cushion will get worse and worse after a lot of sittings. lol Take care always..God Bless!

• Philippines
5 Sep 08
we don't have furniture at home..i grew up not having one and now that i have my own place i still don't got any, though if i ever have the money to purchase one i would like a couch...its very comfortable and i can even sleep on it maybe when i watch some programs

• China
5 Sep 08
Hello youless. That is true indeed that it is easier to clean wooden furniture, especially wooden chairs. Well, when we moved into our apartment in 2003, we bought all of our new pieces of furniture from the biggest furniture market in Guangzhou. We hired a truck and my wife and brother-in-law went together with the truck to get all the furniture we need in our new apartment. I love what we bought, especially the king-size bed and other double-beds as well as the three comfortable green sofas in the living room. These three pieces are my favorite, though we have also some other nice pieces. . .

• United Kingdom
5 Sep 08
I do not like wooden furniture to be honest and I find it quite hard and uncomfortable, I like the soft furnishing and apart from the dining table that is the only thing that is wooden or made of wood in my house, everything else is fully furnished. Besides my dad is very very heavy and the wood wouldn't be able to support his body LOL! He collapsed through one before, very funny but not very economical.

• Malaysia
5 Sep 08
I have a rottan settee at home. I have discarded my PVC sofa as it has worn out. My rottan settee has been there for more than 5 years now and it is more comfortable than my previous settee. Rottan last for ages and it improvise as it ages. So I think that's my last bit of furniture that I am going to keep. I don't intend to replace it anymore no matter what ever latest design comes up.