I've Got Chiggers!! UGH!!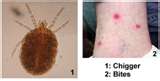 United States
September 5, 2008 8:37pm CST
They're all over both of my legs, more so on my right and they're driving me insane!! Gosh they itch!! I've been putting clear finger nail polish on all the bites and that's when they really squirm!! They're squirming because I'm smothering them to death with the finger nail polish. The polish feels like hard plastic on my skin and even that is driving me insane!! I've learned my lesson!! I won't go into the back yard woods ever again without "OFF!" on me!! Oh no way!! Once is enough for me!! Yeah, hubby got them too but not nearly as bad as I did. I must have an attractive smell to them or I stepped right on their nest. I wonder why they didn't bother me earlier this year? Is it this is the only time they're active? Does anybody know anything about these little boogers? Other than them being like ticks but much smaller and they bury themselves under your skin and itch like crazy all the while making bite welts on my skin, is there anything else I should know about them or even would want to know? lol
4 responses

• Canada
6 Sep 08
I've never had that problem, but I feel for you. I wouldn't WANT to have that problem. It sounds itchy, annoying, and possibly painful. As for the finger nail polish, I hope that helps. As awful as it feels, just think of how annoying it is to THEM, and that may make you feel a little better...I know it would make me feel better. :)

• United States
7 Sep 08
I just found this on the internet.. Try this I hope it helps. Facts About Chiggers Chiggers, which are also called harvest mites or red bugs, are very small and can enzymes that cause the itchy rash. . Treatments for Chigger Bites While nail polish isn't a good treatment for chigger bites, anything that can help control the itching can be helpful, including: take a bath or shower as soon as possible after any possible exposure to chiggers apply your favorite OTC anti-itch medication, such as hydrocortisone, Calamine lotion, Sarna, oatmeal baths, etc. oral Benadryl a prescription strength steroid cream Although chiggers in North America don't usually carry any diseases, the bites themselves can get infected

• United States
7 Sep 08
Thanks for that information, it was really helpful! I thought we had to smother them to kill them in order to get rid of them... at least that's what I've been told anyway, maybe not. I wonder what exactly kills them then? I mean, we treat the itching then what? Do they just die in our skin?

• United States
7 Sep 08
Contrary to popular belief, chiggers do not burrow into the skin, but pierce the skin, (often around a hair follicle) and inject a fluid that prevents blood from clotting.The fluid causes tissues to be inflamed; each bite has a characteristic red welt with a white, hard central area. The tiny red chigger in the center of the itching bump is effectively camouflaged by the inflamed tissues. Fluids secreted by the mite iquifies the tissues that are ingested by the chigger. It is these injected fluids that results in the severe itching and dermatitis that accompanies chigger bites. According to this they are not in the skin they are on the skin so bathing them will wash the off your body.

• United States
7 Sep 08
Oh I feel for you, Ihad gotten them last year and I hated it..So whenever I go near a place that I know they hang out I put on my insect repellent before going.. As for the itching, just keep putting the nail polish on and maybe take some anti-histamine that is found in some cold medicines..Also takign a bath with aveeno might help too..

• United States
7 Sep 08
Thanks but I'm much better tonight but what a long two days it was! They were driving me batty!! I know better for now on I won't go into our woods again without Off! on myself. I didn't know we even had them but lo and behold! I found out the hard way!!

• United States
7 Sep 08
I am glad you are doing better..I too learned the hard way.I got my last chiggers in my neighbors flower bed I was helping to weed..She never gets chiggers there and was surprised that I did, but no matter what the weather or season, if I go near that place to do any gardening, out comes the insect repellent..


• United States
7 Sep 08
I completely undertsand where you are coming from--the country. LOL I don't use nail polish when I get them. When i notice a red bump, which as you know being near woods, it could be anything right? well I use the hydrocortisone cream (Benadryl) on all of them. It stops the itching and the bups go away. My father actually calls them seed ticks...but I am not sure if they are completely related or not. They are annoying. And we get them throughout the summer, but the Fall is the worst. Good luck to ya. Oh and OFF works even after you have them on you. It will kill them or make them go away.

• United States
7 Sep 08
Really?! Off! will kill or make them go away? Now that's a new one for me!! But I love it!! Finger nail polish is to uncomfortable but Off! is much easier to wash off so I love that idea much better but I promise you, I'll be wearing Off! from now on when going into any woods!! lol I learned my lesson!!