Is the "Liberal Media" actually helping the right?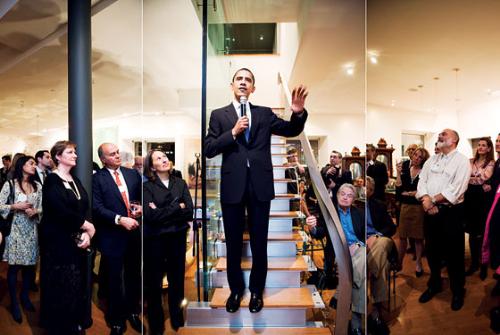 United States
September 6, 2008 2:27pm CST
During the 2000 election, I remember the moment I began to decide to Vote for George W. Bush. Well THAT line should clear out the poseurs.=) Anyway, it was when that reporter, I don't remember his name, Confronted candidate Bush with a Twenty Five year old DUI. Bush just turned and faced the guy and said 'yeah that's true", No denial. No obfuscation. No excuses. And no foney apology. I thought,"If this is the worst thing they have on this guy, then this is a guy I should look into", and I did. I made my decision based on a lot of things But sometimes I wonder if I was the only one who saw that and reacted that same way. I'm sure there were others and I also wonder, if that reporter had been a little more professional if we would be sitting here discussing the last eight years of McCain's Presidency. Even though the press has been more focused on the wrongs of the right, I think in the long run they make the party stronger. Mark Foley was only a Congressman, but what if he had run for Governor? And he was still chasing teenage boys? THAT would be Really embarrassing. But thanks to a media that made him famous for 15 minutes (or was it two weeks?)we don't have to worry about Mark Foley. I can sleep well at night knowing that a Vulture Press is doing their level best to find anything they can that's wrong with Sarah Palin. And Believe it or not, I'm sure that Sarah Knows this too. If SHE got a DUI 23 Years ago we'll know about it soon enough... On the other hand, While the press ignores problems on the left, they are allowed to stink up the place and fester. The longer that this is allowed to go on, The more people see what is really going on. The problem has always been that more people don't see it because the press ignores it. I have often said that "it's not that the press lies to us. It's that they are very selective with the truth". But this has been changing in the last few years, The media is no longer confined to three networks, two papers, and a radio station. So, when the a newspaper or magazine decides keep a plagiarist on staff, Or use Photoshopped Pictures to spice up a story, they can't control the outflow of news anymore. Or if a leading anchorman uses foney Docs to back up a spurious story, we can call them on it. We don't expect them to come clean since they have been getting away with it for so long. But at least it's no longer just "Freedom of the press, To anyone who owns one" Now before the negative comments begin. If you want to tell us how many Republicans are crooked, Don't waste your time. We all know that there are crooked Republicans. That is nOT the argument. We are talking about media coverage and re electing bad politicians. Like Marion Barry for example. Ted Kennedy. Or My favorite, William Jefferson D. La. If you want to make negative comments you must answer for these guys first. Then I have some more names to add to the list. Positive comments can began right away +D!!!!!
3 responses

• United States
8 Sep 08
Can I add that fool mayor of New Orleans as an idiot Democrat who keep getting re-elected? Mr. Chocolate City, my A$$! Kwame Kilpatrick is on his way to prison but he would have been re-elected if the feds hadn't gotten him. He's another friend of Obama's ..... er, ex-friend now. I think he might be under the bus with Wright, Phleger, Trinity and his white grandmother. It's getting really crowed under there. Yes, I predicted that all of this bashing in the media of Gov. Palin is going to bite them in the butt and it will. The Zogby poll has McCain/Plain up today and USA Today has them up by ten points! I'm loving it!!

• United States
8 Sep 08
Piasabird, You can add anyone you want. And I even challenge liberals to tell us about a corrupt Conservative politician that has gotten such gentle treatment in the press and/Or been re elected. But they don't seem to want to take up that challenge. Maybe it was too complicated for them to understand. IDK. Actually Kwame Malik Kilpatrick WAS re elected. He is(was) on his second term. I was just talking about that yesterday with My Bro-in-law in Michigan.He and my sister both told me that they will be voting McCain/Palin this year. And my sister won't even TALK about GWBush. She doesn't even want to hear his name! I think it's going to be a landslide. We need to finally shut these idjuts up. Hey! I guess I have found a way...Just ask them to be honest....lolol. no libs on this thread.

• United States
9 Sep 08
See, I learned something new today. Actually I must have forgotten actually that Kilpatrick was on his second term. For all the stuff he has allegedly done he' just getting a slap on the hand. I read somewhere that he is suspected of being involved in murder.

• United States
8 Sep 08
By trying to smear her they are showing us how much she is like all of us. Her husbands 20 years old DUI - How many times have we bee so close to that one DUI. One I can forgive but repeated I can't. How many of us could be a heart beat away from the Presidency by climbing the political ladder like her. I remember a student who was complaining about a decision the school board made and a teacher told him to run or shut up. He ran and got elected. The point is they story they are painting of her is so similar to most of us if we had made one or two decisions differently. We know her life history and what do we know about her opponent? I think the Press is distorted and that is not a problem until they report the distortions as the truth, People are seeing the truth and newspapers are losing readers, Network news is dropping in the ratings and Talk Radio is growing and Fox Cable News is growing in viewership. people see what is happening and are searching out other outlets to get their news.

• United States
7 Sep 08
WOW! And I was wondering if _I_ were the only one who went through that! I'd NEVER voted Republican before that reporter tried to slime Bush. I'd become a prolifer not long before, but still hadn't learned enough about Republicans to know what a generally upstanding, forthright, outstanding bunch we are. THIS WAS MY DOORWAY. And as I felt exactly as YOU did, I started paying a LOT more attention, & discovered that -- gasp! -- The GOP is NOT filled with neo-NAZIs, nor knuckle-dragging, snot-nosed morons, as the "conventional wisdom" (as defined by the LEFTIST media) would have us be! Exactly the opposite! And I became BOLD, & encouraged when OTHERS began to come out of the political closet. And now, here I am, agreeing with folks like YOU, who come armed with FACTS, not just feeeeeliiiiiings. YAY! Way to go. (BTW, I came here at your invitation on that Palin-bashing thread--so THANX!) Maggiepie


• United States
9 Sep 08
Chris Matthews and Keith Olberman finally got the axe for their blatant bias.