I met Abhinav Bindhra - My Dream came true:)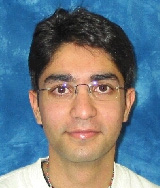 India
September 7, 2008 8:05am CST
Yes i met Abhinav Bindra today in my college and im so happy as well excited to see him and our Governor S.S Barnala honoured him with Doctorate shield and now Abhinav Bindra has become Dr.Abhinav Bindra from a good reputed college SRM .Today is my convocation for my batchelor's degree we received the degree certificates in behalf of our 3 great people 1.Abhinav Bindra 2.S.S Barnala 3.T.R.Pachamuthu( SRM,Chancellor).It was a dream for me to meet Abhinav Bindra but i thought my dreams wont come true as he is somewhere in a great position and i cant reach him or at least see him very closer but today i went to receive my certificates from my college we were all surprised to see such a great personality in the dais .Abhinav was in red robes i was in black robes he was just walking beside me to enter the dais he was handsome and a man of talents and i greatly admire him. There were many press reporters in the hall just check this link http://www.ndtv.com/convergence/ndtv/showsports.aspx?id=SPOEN20080064440&ch=9/7/2008%205:30:00%20PM since it was very crowded and we all students were asked to switch off our mobiles we weren't able to take his photos or videos..:'(
3 responses

• India
7 Sep 08
Wow!! Thats amazing. You people are so lucky. You didn't know about the chief guest coming before itself huh??? If we are attending any function, our first work is to find out the chief guest. By seeing that only we will decide whether to attend the function or not. Lol. Anyway hope you had a nice time today. Have Fun. Happy mylotting.

• India
7 Sep 08
No akka i dint know it they dint inform us about it yesterday also i told you know.. that i have got convocation tommorow but i seriously dint know who is coming i really dint want to go but then my parents pressured me to attend it finally it was all sweet and excitings moments.. i dint take his picture he was just passing by me i was nervous i dint even give my hand to him :"( oh sis i just missed everything no one will be like me :'(

• India
7 Sep 08
Hey come on yar. No worries. Atleast you saw him right. Be happy about that. We people didn't get a chance to meet him itself. Thank your mom for forcing you to attend. Hehe. Lol.

• India
7 Sep 08
Yes sister... its true if they weren't pesturing me i wouldn't have had this chance.. if i had been a rank holder i think i may be getting a gold medal from Bindra and Barnala.. anyways i atleast met him.. may be in someother occasion you will also meet the one who you have longed to meet...:) GOD BLESS


• India
7 Sep 08
Hiiii Cool yar!What did u feel the moment you saw him.Becoz itz the dream of thousands of people and you have seen him today.....

• India
9 Sep 08
congrats!!!!!!!!!friend for meeting such a great personality in real.ABhinav Bindra becomes real hero of india after wining the maiden gold medal for India in the Beijing Olympics 2008.its great to see when i saw abhinav bindra getting medal after wining on TV.He is becomes very very special for india. hows you feel after seeing abhinav on your college??cn your college provide him degree??what he says on this great occassion??

• India
27 Sep 08
go by the link which i have provided above and yes my college provided him a doctrate degree.. i was froze lol.. he was just beside me i never know.. then he passed me and went through the dias.. yea.. i was so happy to see him.. he seemed to be down to earth person..

• India
26 Sep 08
Lucky lady lucky to met the only Indian to win a gold medal at the olympics. Wish i too could met him one day. HE is our real hero and would cherish it for life if such a moment ever comes in my life.