My Piggy Bank is Getting Heavy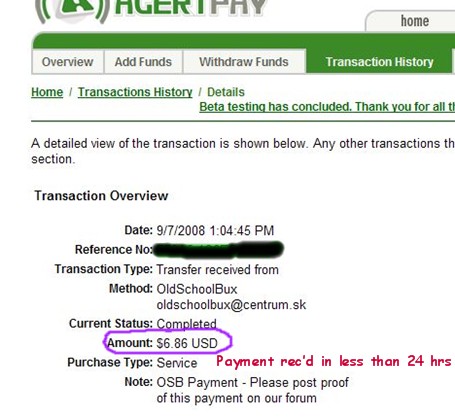 United States
September 7, 2008 2:42pm CST
Another great day in the PTC world! I requested payout with OldSchoolBux at 9:35 pm and this just appeared in my AlertPay account, well under 24 hrs later, and it's Sunday! (photo below) Anyone else have success stories with OldSchoolBux? Who else are you waiting on payment from? I'm waiting on another from IsabelMarco, and very close on some others. If you want to check out any of my PTCs, links are on my profile. I've been paid a couple of times by IsabelMarco, CrewBux, NeoBux, once by TenAds, OldSchoolBux, Earn3, and oh goodness, I can't remember who all else. How about you?
5 responses

• Italy
7 Sep 08
Mine is too!

The longer a site stays put then the bigger the payouts become. It's over six months since I joined some of the older sites and they are bigger payouts then I ever expected. I am on all those sites you mention and have been paid by all but three but I have others paying which you do not mention like NeroBux, Adstab and VipBux

Things are certainly looking up! Congratzz and now you cannot say 'never on Sunday' !


• United States
7 Sep 08
I LOVE being able to tell people that not all of them are scams!

• United Arab Emirates
8 Sep 08
well i have a special story with them !! i guess u have cashed out on the happy day didnt u ? anyways , i have been paid 7 times a total of 74$ so far and still counting !!


• Singapore
8 Sep 08
Cool, how long have you been doing this? I just started, and it's been interesting so far! They pay us for discussing things we're interested in! :D I haven't tried anything else though, I haven't got the time... Guess I'll just stick to mylot for a little longer...

• United States
8 Sep 08
How long have I been a member here at myLot? I joined in the middle of February, so I guess it's close to 7 months now. Wow, I didn't realize it's been that long! (Time does fly when you're having fun!) Since you're fairly new here, you might like to read the tips from my profile. There's a lot of good info there that have helped a good number of people. Make sure to read both articles.

• United States
8 Sep 08
I have been with MyLot over a year now. Other sites I have been with longer. There is one site I have been with for over 5 years. When you find a good site, stick with it. Gather tips from the longer timers to learn which sites are safe and which one to avoid.

• United States
8 Sep 08
Have you cashed out at RFN yet? I have and Gav sent the money to my Paypal account within 24 hours. That was nice!!! I am working on my next payout and I am soooo close.

• United States
8 Sep 08
I haven't been to RFN in months, so I have no idea what I even might have there.