My Nephew is very Sick:(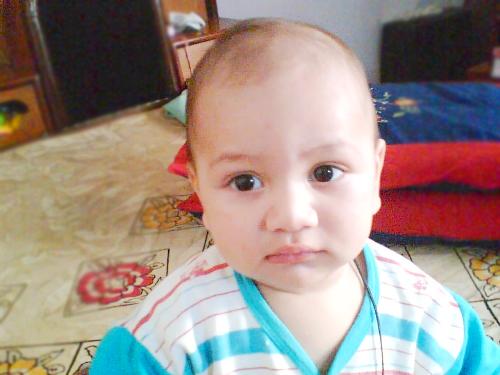 India
September 8, 2008 10:08am CST
Hi all. Everything was going fine. I was enjoying mylot after a long time because i started posting in mylot again after 2 years. I am about to reach my $10 payout but last night my nephew got sick. Vomiting and loose motions because of infection in stomach. Please pray for him. God bless you all with good health.
7 responses

• Philippines
9 Sep 08
Hows your nephew now? I am praying that he will be fine. I know he is a strong child. He can escape out of that vomit. Your nephew is so cute. Wow! You both are lucky to have each other a beautiful aunt and cute nephew.

• India
10 Sep 08
Thanks nlcapricorn. He is having injections everyday. But still not 100% better. He lost a lot of weight. Please keep praying.

• Philippines
10 Sep 08
I will my friend. He will be fine. Me as one of your friend is praying for his recovery. I know will answer all our prayers. He will always there in heaven listening to every word that we saying to him. Whatever is the answer God has always a purpose.

• Sweden
10 Sep 08
god bless him! he will be good soon. dont worry.


• India
10 Sep 08
Its just infection in stomach. And we believe it could be because of milk. Lets hope he gets better soon. Thanks for prayers hmkoct

• United States
9 Sep 08
Rice will help with the looseness and be sure he gets plenty of liquids. There are medicines you can buy to stop vomiting. I'm behind in myLotting, so I hope he's much better today. He'll be in my prayers, I just said the first one for him. Be very careful he doesn't get dehydrated!

• India
10 Sep 08
Thanks for the prayers dragon. Yes we are giving me oral rehydrations salts so he wont get dehydrated. He still vomit this morning.


•
8 Sep 08
owwwww he is soo cute, i am sure he will get well, i will pray to god and get a message to the big guy, to make him well. i am sure god will make him much much better!! Happy mylotting my friends!!

• India
9 Sep 08
Thanks sweetdude. Ya he is cute. Thanks for your wishes and prayers. God bless you.

• United States
11 Sep 08
sorry to hear that...I have many nephews and nieces. My prayers go out to him