Do you eat chili? pepper? capsicum? Like it?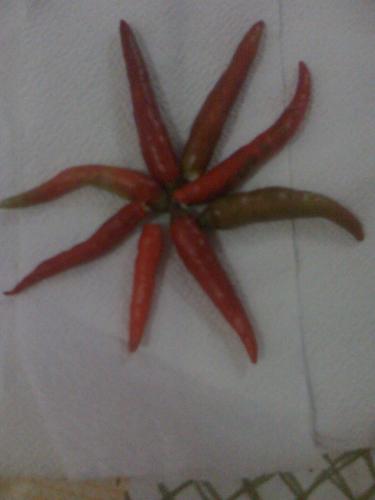 Philippines
September 9, 2008 11:32am CST
Capsicum plants have a variety of names depends on tye. Some are called bell peppers, chilli pepper or just capsicum in some countries. They are also called paprka in some countries. The capsicum fruit, most of them, contains the lipophilic chemical capsaicin that produce a strong burning sensation in the mouth of an unaccustomed eater. The amount of capsaicin is different on every variety of capsicum. The only capsicum with no capsaicin is the bell pepper. Capsaicin is used in modern medicine, as a circulatory stimulant and pain reliever. Capsicum can be eaten raw. In some cuisines it is used in cooking, In some as salad or as a spice on a dip. They can be preserved too, by drying or pickling or freezing. Capsicum has many varieties. some of its species are as follows with their corresponding hotness: [b]855,000-1,050,000 Naga Jolokia 350,000-580,000 Red Savina Habanero 100,000-350,000 Habanero chili, Jamaican Hot Pepper, African Birdseye 50,000-100,000 Thai Pepper, Malagueta Pepper, Chiltepin Pepper, Pequin Pepper 30,000-50,000 Cayenne Pepper, Ají pepper, Tabasco pepper, some Chipotle peppers 10,000-23,000 Serrano Pepper, some Chipotle peppers 2,500-8,000 Jalapeño Pepper,Guajillo pepper, 500-2,500 Anaheim pepper, Poblano Pepper, Rocotillo Pepper 100-500 Pimento, Pepperoncini[/b][i] [b]In my country we had the specie Thai pepper, and it is only 50,000 to 100,000 hot, I can't imagine myself eating naga Jolokia with 855,000 hotness!Aside from its hotness, [/b] [/i]here are some benefits of capsicum: It helps the circulation of blood It prevents bleeding It also prevents high blood pressure, heart attack.. [i]I always wonder why my husband never got sick even though he is not taking any vitamins or supplements, then it dawned to me that he is always eating capsicum ( 2 a meal). so I think that is one of the reason why he is healthy. So I tried eating at least two seeds and true enough my cough were almost healed! Have you experienced the power of chili?[/i]
5 responses

• China
12 Sep 08
i don't eat chili pepper or capsicum. but i eat spice good. I don't why either, i know there is more vitamin in these thing, and it is good for health, i can't eat them, i know it is strange, but eveyone will have there own habit, i know a lot of people can't eating spice food at all , but it is very delicious.

• Australia
12 Sep 08
I am not a huge fan of capsicum but I LOVE chillies. The hotter the better too! I have chilli in most meals that I eat but the ones here in Egypt are usually not that spicy at all. I remember eating a chilli called a "Scottish Bonnet" back in Australia one time and it was the only ever time a meal was SO spicy that I couldn't actually eat it. In a strange way though I still enjoyed the experience! lol. I too have always been of the understanding that they can be good for health so I am very happy about this and will continue to eat them as often as possible.

• Philippines
10 Sep 08
Hi pehpot! I so love eating fresh, crispy bell peppers dipped in some tomatoe dressing or herb dressing. My husband loves to chew on this very hot pepper, (the long green ones?) and sometimes eat it with bread, like a plain pepper sandwich. Oh indeed it has lots of health benefits. Just like you, i used to wonder how come he doesn't get sick, drinking too much, sleeping very late, waking up early...then it dawned on me what he said about eating raw peppers. When we moved here in his country, i slowly learned to eat the hot kind (his mother taught me) and oh it tastes good after all. Eventually, i got accustomed to eating the hot pepper, fresh and crunchy as well. It is also a kind of meal appetizer.

• Philippines
10 Sep 08
Oh this is very informative my dear! Thanks for posting. I love raw capsicum in my pizza and I always slip some in my chicken recipes and yes I never forget to include bell peppers in my spaghetti. Other people will leave the capsicum in their plate after eating all the meat, but not me and my hubby. We love eating them and thanks a lot because you've inspired us even more to keep on doing what is right. Cheers!

• India
9 Sep 08
hi there pehpot. i do eat pepper and green capsicum when they are mixed in food. i don't eat it just like that. i once ate chillies when my friend placed a bet in front of me. she wanted me to eat red chillies and i did win the bet. tears came out of my friends eyes looking at me eating the chillies. happy mylotting.