Could You Sit In a Tree For 21 Months?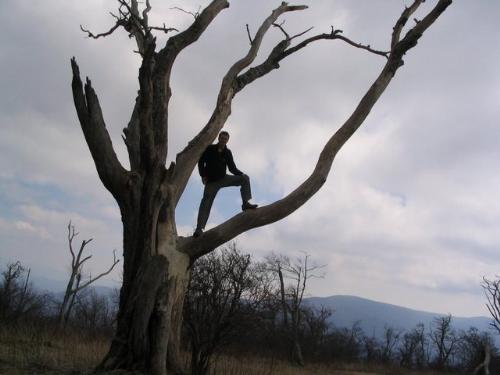 United States
September 9, 2008 4:41pm CST
I don't think I could. 4 People in Berkley California did. They were protesting the building of a planned new sports center. I remember hearing about it when they first went up and I was shocked to find out that they finely came down today. They had to tell them they couldn't have any more food and had to build scaffolding to get them down. I think it's fair to call these people true "tree huggers". Read the full story here. http://www.nbc11.com/news/17428073/detail.html?rss=bay&psp=news
4 responses

• United States
9 Sep 08
I'm reminded of a cat I had once that spent a day up in a tree and wouldn't come down. Not knowing what else to do, I went and got my chain saw. Surprisingly, when I got to the base of the tree and started it up, that cat ran down! Maybe something similar would work with the next bunch of tree huggers stuck up a tree.

• United States
9 Sep 08
Lol, yeah that might have helped. Too bad someone didn't think of that 21 months ago. My children used to get all upset if they saw a cat they thought was stuck in a tree. I explained to them that the cat would come down eventually, because I have never seen a cat skeleton in a tree.

• United States
10 Sep 08
It was a funny situation looking back on it. We are pretty sure something big, mean, and nasty that was much bigger chased the cat up the tree. We think this because the cat was in the very top of the tree where normally you would not see a cat as the limbs were getting too small to support its weight, but small enough to keep its pursuer at bay. We had to look for the cat for about a day before finding it. Then we only found it because we could just barely hear it meowing. The cat was much higher than you would normally look for a cat. That's why I got the chain saw out. It was about a 50 ft tree and the cat was about 47 feet up it. I was going to fell the tree into another so the cat could walk down the inclined trunk. I guess the cat realized what I intended to do and did not want to chance it.

• United States
11 Sep 08
ROLF, that's really funny. I can just picture it. I have seen cats that high too. It's pretty scary.

•
11 Sep 08
I could, but I'd have to have a lot of
LIPSTICK
...


• United States
12 Sep 08
I think you would look pretty funny sitting in a tree with lipstick on.

• United States
13 Sep 08
Well, I could only do it for something totally important and the results would have to be guaranteed. Or maybe I couldn't do it at all! Twenty-one days would be tough enough, actually..!

• China
10 Sep 08
I don't think that I can stay in a tree for even a day for that, but I can see how much they love the place and want to protect it without getting the place damaged because of the construction of the new planned sports center.