Do you like every time it rains???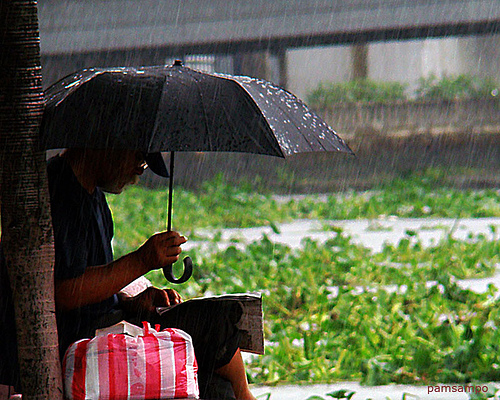 Philippines
September 10, 2008 8:38pm CST
Well, I like when it rains but not all the time... As of now, I'm staying in Makati City, Metro Manila and since last Monday, September 8,2008 it was already reaining up to now and I really hate it

because I find difficulty to ride a Jeep especially at night then I'll get home very wet... I just really hate the rain right now because it really ruin my day

... What about you?? Do you like every time it rain so hard?? Hope too hear you soon..

Thanks for the time reading my discussion.. Have a nice day!
9 responses

• Quezon City, Philippines
11 Sep 08
Yeah that's true I like it when it rains and I am home. It is but a cool and very relaxing. But when I am at work I really hate it since it will be either a problem going home especially if you are just commuting. Even for those that have cars would also get irritated when it rains since traffic becomes slower therefore getting to your destination means you're gonna be late at home or work. I am just lucky my area doesn't get flooded that easily.

• Philippines
16 Sep 08
Well,if the rain is too hard then it really floods on the street especially outside of the gate.. I really need to ride a tricycle in order for me not to get wet.. Going home especially at night is really difficult since there are many people will really rush to ride a jeepney or a taxi.. And I really hate when people start pushing just to be able to ride in the jeepney and even sometimes in the MRT.. Anyways, thanks for sharing


• Philippines
11 Sep 08
I actually like it when it rains here. It makes the temperature cooler and because it is cooler, it makes it much easier to sleep. It's usually so hot here so I actually like the change of weather. Of course, it makes life hell for commuters.

• Philippines
11 Sep 08
i like rain very much...when it is very hot and humid i just always pray that it rains..even if it floods around our house i always pray for rain..i do not go out that much, i just stay inside the house with my little kids...i know that typhoon marci is still in manila area or is it still?i do not really know the update..i saw it in the news early this evening....i think it is heading outside of the country.

• Philippines
12 Sep 08
Oh! That's good for you at least the rain won't irritate you so much.. Well, I don't hate rain so much only some aspects that irritate me just what I've said it cause so much trouble if the rain is really hard.. I'm just very sad to those people who are affected because of this typhoon.. Oh, well people can't control the environment.. I just hope that the rain will stop already..


• Philippines
11 Sep 08
oh yeah. Coz it's cool and i love to be at my room durig these times. But not the heavy one.

• Philippines
11 Sep 08
Not really all the time. I really don't like it when it rains while I'm traveling. I hate the feeling of getting wet all of a sudden not only from the rain but from also the splashing from other people walking or even worse from cars. I just like it when it rains and I am at home relaxing.


• Philippines
16 Sep 08
Me too... I really hate when I'm walking in the rain since my foot or shoes will get wet and most of all my pants.. My mother always get mad at me when I went home dirty because of the dirty stuff in the street.. I just really hate it.. I just love when it rains when I'm at home and sleeping.. It is really relaxing and the whether is very cold..

Anyways, thanks for sharing

.....

• Philippines
11 Sep 08
I like it when it rains. Cool breeze, moist temperature, it's really refreshing and it's always nice to have a cup of coffee while your all cozy in front of the window watching the news. I hate it when it rains hard though. Floods and traffic jams all over the metro is what you'll expect when it the rain pours.

• Philippines
12 Sep 08
Yep. Espana Blvd is the worst road to take when it rains hard. Dapitan is a close second.

• Philippines
19 Sep 08
i like it when it rain for it cools the house and its good to sleep, but the hazard it brings when hard rains come is the flooding and children in the street might get sick getting a ride from school. For the thieves, they like it raining hard, my business was visited by thieves while raining hard and they ransacked everything they can get. sorry me.

• Philippines
16 Sep 08
I love it when it rains but I want a rain that is not too heavy to make some roads flooded. Just the right amoung of rain that will freshens and make you feel cold will be fine with me. Besides I also love playing in the rain even up to this days I really can't help but go out of the house and make my body wet by the rain drops.