I want to have a child but my partner doesn't want to...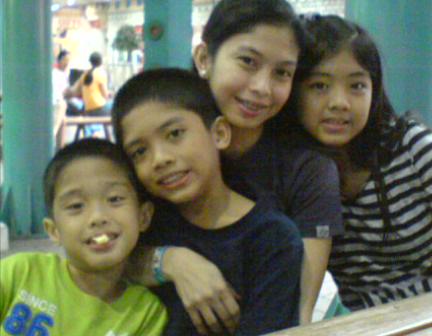 Philippines
September 11, 2008 4:46am CST
[i][b]Last Sept.8th I called the hospital where my ex-husbands' new wife was confined bec. she just gave birth.My ex-hubby,his wife and I are already friends.I have a live-in partner and we are going to celebrate our 2nd year of being together this month. I was worried bec. when I called the hospital my ex's wife hasn't delivered the baby yet.So when I called that same day my ex told me that the baby is finally out and he sounded so excited to see his son from his new wife.I felt sad.Not bec.my ex is happy but I felt sad bec. I also wanted to have another baby.My kids are with my ex bec.I couldn't afford to pay their tuition fees bec. it's really expensive and my salary is not as high..really high compared to my ex. So I talked to my boyfriend and hug his waist and said to him..."I want to have a child.." he answered "we can't afford it".Our salaries if combined are just enough to pay our rent and all our bills and budget for the food.I know that it's not practical for us to have a child.I asked him if he will still love me and be with me even if we don't have a baby of our own and he answered "of course,I will still love you even if we don't have a baby" and I know that for a fact that no matter what he will still love me. But the feeling of "longing for a child" is always present for me.I miss my kids.I don't see them often.I have cats and I felt silly and crazy by pretending that my cats are my kids,other kids.I am already 34 years olds and what if the time comes that my partner would want to have a child and I couldn't give him one...I am afraid that he will leave me.

As for now I am sticking to his opinion that we can't have a child bec. of the budget.It's really expensive nowadays to get pregnant but I don't know if I will just let the feeling of loneliness for having a baby slip away and stick to his promise that "with or without a baby" he will still love me.I miss the feeling of being a mom plus I am also excited how my partner would feel if he see his baby,his own flesh and blood.sigh

[/b][/i]
9 responses

• United States
12 Sep 08
If he does not want children, then you cannot force it on him. My mother was your age when she gave birth to me. I was her first child, and I was my father's forth. My father did not want anymore children because he already had his own, but my mother really wanted children. She did not force my father to stay with me, but she did make him pay child support. Your boyfriend's reasons for not wanting children seem pretty valid.

• Philippines
14 Sep 08
[i][b]Thanks for the comment rogue13xmen. My boyfriend and I almost had our first child but there was a problem the doctor told me that it's a blited ovum..meaning it was a false pregnancy the baby didn't develop.We thought that it could be a blessing in disguise bec.we are facing crisis that time and we could afford to pay the rent and bills then my pregnancy just in case.I guess God has his reason why my first pregnancy didn't pushed thru I guess I just miss my kids bec. they are not with me and they are staying with my ex-husband.[/b][/i]

• United States
15 Sep 08
Did they choose to stay with your ex, or did the courts force it on them?

• Philippines
15 Sep 08
I was clueless with the law when our marriage got annulled I didn't know that it's a different process for child custody.But I thought that time I don't have a job and I don't have a house for my 3kiddos.The kids are staying with the dad and we are actually in good terms.His new wife and I are civil,we talk and as they say let all bygones be bygones.My kids can actually stay with me for vacation,I get them from the dad if I have save some money for their vacation here at my place.

• Philippines
11 Sep 08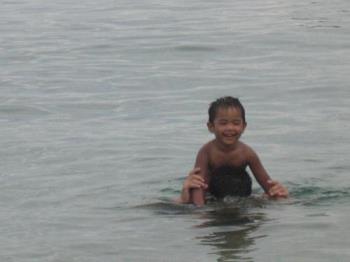 Oh, I understand you Pink! Who will not love to have a child. You've experienced motherhood and you know the joy that goes with it. Kids add sunshine to our day. Their laughter, their playfulness, their sweetness, their innocence. I love kids too! I just admire you that you sacrificed your feelings for the the betterment of your kids. But at least you can see them also and not totally alienated from you. But just as I said, I know how it feels when you see another woman having a newborn baby. You also feel like you wanna have a tiny angel also of your own. It's just sad that you can't afford it yet. I understand your hubby. He is just being practical. However, don't be sad... I know that there will come a time that your wish will come true. You are still young after all.

• Philippines
11 Sep 08
Oh salonga I don't think that I am still young.I am running out of time and money as well.But if Gods will for me not to bear a child I will just accept it.Probably I'll just make up with my 3 kids and with my two cats.I just miss the feeling of having a baby esp. that my kids are not here.OMG..for every reply I receive in this topic I get emotional.I feel like crying.Thanks for your time salonga.


• Philippines
11 Sep 08
AT 34 you are still very young my dear. My Boss delivered her youngest child at the age of 46, imagine that. And also at least you already have 3 and they are not lost. They will still be with you sooner or later.

• Philippines
13 Sep 08
I was saw an interview of a woman on QTV. She and her husband are married for already years. Im not quite sure how may years, but still time is gold as they say. She was asked if she is longing for a baby speacially the problem is with her. One day, she and her husband found out that she has mayoma that's blocking her fertility, and she needs to be operated. However the chances of giving birth was one of the percaution and before she decided to go under the knife she asked her husband. The woman thought that her husband will feel bad and sooner or later will leave her. She was amazed what her husband told her " When we got married. I married you. It was only you and me. I don't think I can ask for more. I love you. And I would love to live with you all my life". The woman who was interviewed was Agot Isidro. In times like this I realized that when a guy loves you, he loves you. Not because of having a baby, its because HE WANTS TO SPEND HIS LIFE WIH YOU.

• Philippines
14 Sep 08
[i][b]I guess I just have to leave it to God whatever His plans are for me and Neil I guess I just have to wait and see.But since He knows for a fact that we are having problems with our finances that would be God's decision not to bless us with a child until we are fine with our finances.Otherwise we are just adding one mouth to feed and it would be harder for me to see my child suffer bec. of my selfish needs to have a child. Thanks for the reply reese_sakura pinksBEE

[/b][/i]

• United States
12 Sep 08
Well personaly i have been it that postion. and if you really think about it. you can only have kids till a certain age in your life. but there is help out there so if you cant make it. they will help you. and if something is ment to be then it will be . but i'm not quite sure if your saying you can not get pregnet or not? but if you are unable to there is help that will get you pregnet and it will look like your child.

• Philippines
14 Sep 08
[i][b]I already have 3 kids with my ex-husband and we are already annulled and I am living in with my boyfriend and we've been together for 2 years already.My kids are not with me that's why I am longing for a child.I want to have a child but I am also having second thoughts bec. of the finances and we are in a tight budget for our expenses. Thanks for the post ilovejose. pinksBEE

[/b][/i]

• Philippines
11 Sep 08
I think before you plan to have a child. Think about first your childs future first. Save up money and plan things will be easier for your bf to accept eventually that you really want to have a child with him. It is a matter of right timing. Being pregnant is good but you have to see to it too that you can provide all the child needs. It will be hard for you and your bf to have a child when you are not yet financially prepared. If you really badly want to have one. Then save up money and start planning now. When you know you have the money to pay for all the bills in the hospital and the things the baby needs as it grows up then for sure your bf will eventually agree with the idea of having a child with you.

• Philippines
14 Sep 08
I know that it's really expensive to get pregnant nowadays.It's good that I have a medical card but it will not cover the delivery of the child just the rooms of the hospital.It will cost us a lot.But I just feel lonely of not seeing my kids bec. they are with my ex-husband.But I guess I'll just have to be contented with the love that my boyfriend is giving me and as long as we have each other that would suffice already.Have a nice day.


• Philippines
11 Sep 08
Hi there!

You know, it may really be expensive to have a child nowadays but I believe people can do extra ordinary things when it comes to raising a child. Once you had that baby, I know both of you can work it out somehow and will help each other providing for your child. You're right. Age is an important factor for a woman in bearing a child and you should tell your boyfriend that. Who knows, he might be convinced and decides to raise a child. Though he said he will still love you no matter, but having a baby can make your relationship even more stonger because you both have something that's yours and him. Ciao!


• Philippines
14 Sep 08
That's exactly the reason of my boyfriend.But what I am afraid of is that what if he is already ready to have a child with me..but then again if it's really Gods will for us to have a child then we are lucky but if not then I should be contented about it.Anyway we still have each other to love each other and I still have my 3 kids though I don't see them that much at least I know I can visit them anytime and they can have vacation with me.Thanks for the post.

• Philippines
11 Sep 08
You're in a quite sad situation and as a mom, I feel for you. It's very difficult to be away from our kids and not being able to watch them grow. More so that you will be missing the opportunity of letting them feel the warmth of your love. On the other hand, definitely God has reasons for EVERYTHING that happened in your life and you have my prayers that someday you might be able to understand, feel and see His reasons... If God permits it, He will bless you with another child..don't lose hope because hope is NEVER lost!




• Philippines
11 Sep 08
Hi mjmlagat.I hope my boyfriend will not be able to read this discussion I am afraid how he would react to my discussion.Thank you so much and I almost cry when I read the replies for this discussion.I know God has his reasons and it's QUITE OBVIOUS why.But the selfish feeling of missing your children would lead to wanting another child.But whatever thinks is best for me and my boyfriend I'll just let it be.Would you believe I am so excited and is actually planning of visiting my kids and their new brother.I will make my ex's wife feel that her baby boy will not be treated differently by me and I will treat that baby as mine as well.

• Philippines
11 Sep 08
I think both of you have a point. I think it would be good that you get things settled first, in that way you really wouldn't have to worry about your kids in the future. A child is really a blessing and many couples are longing to have one but of course we must consider also their future. It would be hard if you can't raise them properly right? I think it would be good that you find ways to earn extra money so that you could start saving and in the process be ready to have a child.


• Philippines
11 Sep 08
Thanks for the reply magojordan.I know that and I even asked my kids if they want me to have another baby and they all said "no" bec. they know that my situation is far different from my ex-husbands status in life esp. regarding money.But I also want to have a child with me.My kids are far away from me.How I wish I have so much money so that I could have a baby again.Of course I am also afraid that we couldn't give our child (just in case)a better life if our salaries are just right for me and my boyfriend.We almost had a child but it didn't develop I had a blited ovum and after that I felt and told my boyfriend that probably if I was pregnant we would be having a hard time more than what we are experiencing right now.But then again I sometimes feel that I am just selfish and thinking of myself and not thinking what's going to happen if we will have a baby.

..well probably I'll just stick to his promise that he will love me "with or without a baby"