Mancake mania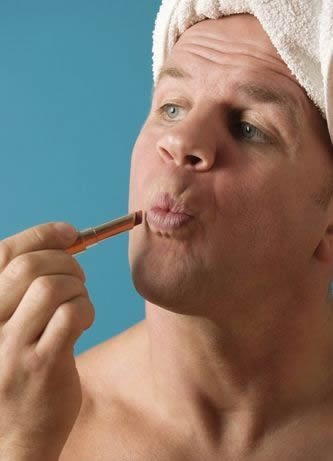 Sri Lanka
September 12, 2008 6:20am CST
Lock up your lipsticks ladies!Guys everywhere are eyeing eyeliner and glancing at gloss.Mancake mania is spreading like a fire these days,I hate when ordinary manly men wear make up,its kinda weird. Man makeup even makes an appearance in history books.I have heard that guys in ancient Egypt applied eyeliner to keep away the "evil eye." But I don't understand why today s ordinary manly men trying to turn into "facial enhanced" fellows,and they think it make ladies turn.Huh! (Did you watch the move Shrek? do you remember the scene,when Fiona noticed something and asked prince charming "Is that lip gloss on your lips!" and freaked out.Ha!ha ha) Would you be freaked if your guy mixed up some mancake or would you help on his hunt for perfection?
6 responses

• United States
12 Sep 08
I must admit, seeing a man covered in makeup would make my head turn, but not because it's a good thing! I would be totally creeped out if my dh decided to wear makeup, but I don't think I have to worry about that. He won't even wear a "fitted" button shirt because he thinks it's to effeminate.

• Garden Grove, California
13 Sep 08
roshand this is really silly. I am now a widow but I could not envision my hubby ever putting on lipstick and other crap. He would have said this is for women. ugh. not me. I also think its foolish. let a man be a man and a woman a woman. and kids let them be kids and nix the makeup. I like men to look like men and women to look like guess what: women. lol.

• Philippines
13 Sep 08
I can't imagine my hubby nor my son doing that! Yukkk! Imagine I will ask my hubby "Is that lip gloss on your lips?" Ha!ha!ha! But I've noticed many male celebrities doing that!

•
12 Sep 08
Hi there roshand8 In the recent Big Brother UK there was a hunk in there and I think he wore eyeliner and he definately wore nailvarnish, black. I thought he was pretty cool but I don't think I would be impressed if my fella wanted to wear full on eye shadow and lipstick, that really is a no no for me!

• Sri Lanka
13 Sep 08
Hi there Humgug

If you ask me all celebrities can do what ever they want!some dudes look good with makeup..But,I don't think it's manly.It seems girly..Now makeup stores are trying to turn ordinary manly men into "Facial enhanced" fellow Ha!ha ha Have a nice weekend

and cheers..


•
12 Sep 08
Hi roshand8, Lucky my husband is only interested in his racing bikes and his execises, he wouldn't dream of putting make up on, mine you he is 49 he he. I don't understand fashion these days men are worst then women when its comes to vanity. Tamara